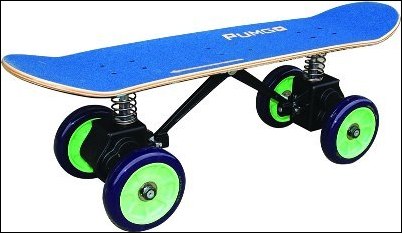 New York, NY (PRWEB) December 12, 2005
How does Pumgo work? Its patented 4-Wheel-Drive and all-wheel steering system allow the rider to cruise along with a simple pumping motion, similar to a seesaw. Kids 7 and up and even parents can enjoy Pumgo.
Pumgo is not only a great way to have fun; it's also an excellent way to get a good workout. The Pumping motion is similar to walking up stairs. Riding Pumgo is a great cardiovascular and leg-muscle workout. With Pumgo both kids and adults can get a good exercise indoor or outdoor.
Land Surf Inc. has developed the Pumgo practice station. Similar to a stationary bicycle, the practice station holds Pumgo off the floor so new riders can practice Pumgo's surfing motion without rolling around. A great additional benefit of the Pumgo practice station is that it can be used as an inside exercise device. Pumgo combined with this practice station can provide an exercise similar to the stepper. The difference is that kids have more fun on the Pumgo station than other exercise equipment.
About Land Surf Inc.
Land Surf Inc. is located in Atlanta, GA. Land Surf Inc. owns PUMGO technology and is the only company manufacturing and distributing PUMGO in the world.
Land Surf Inc.
120 Interstate North Pkwy
Atlanta, GA 30339-2103
1-888-PUMGO-4U
###