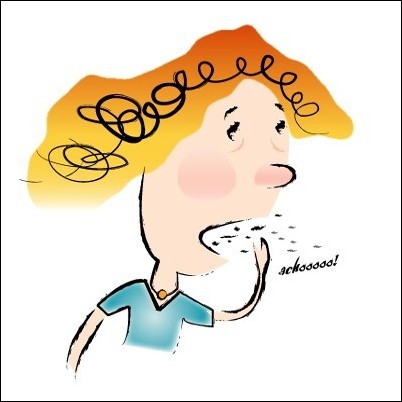 Bethesda, MD (PRWEB) December 14, 2005
Bethesda, MD December 14, 2005. How are you going to keep up your energy while fighting the shopping rush, unwrapping presents, enjoying holiday feasts and playing in the snow this year? By staying healthy, of course. FLAVORx (http://www.flavorx.com) wants to find out if you have what it takes to be a good patient.
1. You just saw the doctor and he gives you a prescription. Do you:
a. Decide not to fill it- after all, you don't feel 'that' bad.
b. Wait a few days before you fill it- the symptoms might go away naturally.
c. Fill the prescription and take it when you remember. If you miss a dose, just double up the next dose.
d. Fill the prescription, read all labels and instructions and take it as indicated.
2. You have been taking medicine and your symptoms are just about gone. Do you:
a. Stop taking it, there's no need to continue to put medicine in your body if your body doesn't need it.
b. Keep taking it; you haven't completed the recommended dose that your doctor prescribed.
c. Don't take it for a day and see how you feel. Save any remaining medicine in case you need it at a later date.
d. Call your pharmacist or doctor.
3. You aren't feeling well and your friend has some leftover antibiotics. Do you:
a. Take it. It's just a little infection, something you've had before, and you know that's the medicine you've taken in the past.
b. Check the labels, instructions and expiration date. Only after everything checks out will you take it.
c. Decide not to take it. It's not your medication.
d. Call your doctor.
4. According to the American Hospital Association, how many deaths were attributed to non-compliance (not taking your medication as directed) in 2004?
a. 500
b. 2,000
c. 50,000
d. 125,000
5. Studies show that non-compliance can lead to:
a. Persistent symptoms
b. Drug resistance
c. Health complications and dangerous side effects
d. Death
e. All of the above
Scoring:
1- a) 1, b) 2, c) 3, d) 4
2- a) 1, b) 4, c) 2, d) 3
3- a) 1, b) 2, c) 4, d) 4
4- a) 0, b) 0, c) 0, d) 4
5- a) 1, b) 1, c) 1, d) 1, e) 5
Score of 4- 6: Don't like going to the doctor, do you? Compliance means taking the correct amount of the medicine prescribed for you at the proper time and under the proper conditions. Can/should you take it with food or on an empty stomach? Are there certain foods/drinks to avoid? What about alcohol? Or smoking? Never take someone else's medication. Follow all medication instructions, and take the entire regimen of the medication. Not doing so could turn an illness fatal and also increase the spread of infection. Be aware that loss of symptoms does not translate to loss of infection.
Score of 7- 9: Been a while since your last trip to the doctor? Taking your medications only partially or sparingly results in a much longer recovery time and increased risk for communal infection. The specified dosage period indicates what pharmaceutical researchers have found to be the optimal amount of time for an illness to be eradicated from the body. It is extremely important to adhere to the medication and dosages that are recommended.
Score of 9 or higher: You are your doctor's favorite patient because you are fully aware of the necessity for taking medications properly. This type of behavior is the only type of behavior that ensures that you are receiving 100% benefit and effects of the medication.
The bottom line is to stay healthy you must be 100% compliant in taking your medications. For children this can be hard, especially with liquid medications that are typically difficult to swallow because of bad taste or unpleasant smell. Many parents stop giving their children medication as soon as all symptoms physically disappear due to the difficulty in administering the medication. However, if the organism is not destroyed, a more virulent strain could develop several days later for which there may not be an antibiotic or anti-viral that will combat this resistant organism. Additionally, parents who send their children back to school before they are completely healthy are running the threat of infecting hundreds of other children at school. To overcome these hurdles, the addition of a safe, FDA-approved flavoring, like FLAVORx, to medications increases compliance from a risky 50% to above 90%. FLAVORx flavorings are non-allergenic, alcohol free, dye free, sodium free, sugar free and are very concentrated so only a few drops of flavoring are required in even a large bottle of medicine. In addition, FLAVORx flavorings do not affect the efficacy of the medication, nor has there ever been a recorded incidence of complication in flavoring over 50 million prescriptions.
For more information, please contact Teresa Chen at 800.884.5771 extension 234.