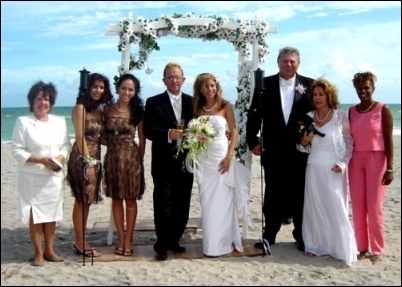 Hollywood (PRWEB) December 14, 2005
Developer Hughes Longelin-Pingle's and Model Lydia Hanni's Hollywood wedding at the famous romantic getaway, Villa Sinclair Beach Suites & SPA, truly was paradise. Love was in the air Saturday, Nov. 19, 2005, as Hughes Longelin-Pingle, 37, and Lydia Hanni, 30, wed in a private ceremony on the sandy white beach outside the romantic getaway.
On the gorgeous, sunny day, 75 of their family members, best friends and local personalities all dressed in white to celebrate the beauty and purity of the couples' marriage. With the aqua sea gleaming in the background, the guests gathered at the blissful Hollywood wedding venue to watch Hughes Longelin-Pingle and Lydia Hanni exchange vows. Hollywood Mayor Mara Guilianti presided over the ceremony under a white flower gazebo. The newlyweds later shared a glass of French champagne as a symbol of eternity.
Mr. and Mrs. Smith were the witnesses as Hughes Longelin-Pingle presented the wedding ring to Lydia Hanni in an elegant, hand-painted 18 karat gold encrusted Sinclair Limoges box, which was crafted in Limoges, France, especially for the event. The bride and groom also gave authentic Sinclair Limoges boxes to each of their guests at the end of the private party.
The bride dazzled guests in her Haute Couture gown, designed by Moshe of Miracle Mile, Coral Gables, which was valued at more than $10,000. Her natural pearl necklace from Place Vendome Paris was estimated at more than $50,000. The groom sported a tuxedo by designer Geoffrey Benee and a Baume & Mercier reversible watch estimated at $10,000. And not to be outdone, Valentino, the couple's Daschund dog, was also dressed to impress in a silk tuxedo by designer Jade.
A private catering followed the ceremony on the Tropical Lounge Patio and the Hollywood Villa Van Gogh Suite, which was covered with white tropical flowers. Guests feasted on an exotic Thai & sushi buffet, prepared by Chef Sam of Thai restaurant Nakorn in Hollywood, and drank more than 50 bottles of Mum's French Champagne, which Cafe Safari served. The delicious coconut-, vanilla- and mango-flavored wedding cake was prepared by the Grand Chef Patissier, Christian Cabanettes of EuroBread French Bakery Cafe.
Hughes and Lydia Longelin-Pingle spent their first night as a married couple in the Suite Monet # 5 of the wedding suite of Villa Sinclair Beach Suites & SPA. The next day, they left their Hollywood private getaway on a private yacht for a honeymoon escape to an undisclosed romantic location in the Caribbean Islands.
"We have a diverse range of private wedding ceremonies and civil union ceremonies here at Villa Sinclair Beach Suites & SPA. It truly is the perfect romantic getaway -- the only thing that matters is that 'love is in the air,' " says Brett Sinclair, wedding coordinator at Villa Sinclair Beach Suites & SPA.
The Villa accommodates up to 75 guests and appeals to young upscale clientele looking for the ideal Hollywood wedding venue. Guests are encouraged to plan early since Villa Sinclair has limited accommodations and bookings with its six luxury suites and seven bedrooms. Eager guests are already reserving rooms at the romantic getaway through July 2006.
Contacts:
Brett Sinclair
Wedding Event Coordinator
Villa Sinclair Beach Suites & SPA
http://www.Villa-Sinclair.com
317 Polk Street
Hollywood Beach, Fl 30019
Phone & Fax: 1-954-450-0000
Greatvacation @ Villa-Sinclair.com
Fine Royal Porcelain from Limoges France since 1764
http://www.Sinclair-Limoges.com
10760 Paris Street
Hollywood Fl 33026
Request @ sinclair-limoges.com
1-954-559-9195
# # #