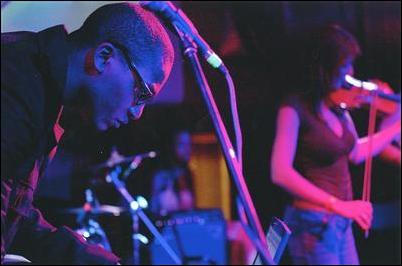 will enrich the quality of many people's lives.
(PRWEB) December 14, 2005 –
Selected from a field of artists drawn from 25 countries, Glideascope is the only UK artist and one of only 8 musicians in the entire world chosen to appear in the Buzz Band Showcase at the 40th MIDEM conference. Held each January in France, MIDEM is the premiere music showcase on the planet, bringing together music makers with movers and shakers, shaping the music industry for the year to come.
Virginie Perrault from the artistic team at MIDEM stated "we were enthralled by the melting pot that is Glideascope. It is actually difficult to categorise and that makes it so unique. Glideascope creates a collage of varied elements, such as Indian, classical, electronica, hip hop, and so on, you can't even begin to list them all."
In marked contrast to a number of electronic artists, Glideascope delivers innovative performances worthy of his revolutionary compositions. His concerts incorporate improvised laptop sets, cinematic strings, impressive visuals and strong percussive elements.
Excited by a prime spot on the conference bill, Glideascope announced "MIDEM is the most important music conference going. To be selected by MIDEM as a 'Buzz Band' act for 2006 in its 40th year offers me an unprecedented opportunity to present my compositions to major players in the industry."
Dance industry bible, DJ Magazine ensured that his live set was a main feature at the party marking their 10th anniversary of publishing in Ibiza in August 2005, held at Pacha's spectacular El Hotel. DJ Magazine's write-up declared, "The music of up-and-coming producer Glideascope promoted a chilled and relaxed atmosphere - the perfect way to kick-start weekend celebrations in Ibiza." Glideascope subsequently appeared at the T-Scan and Top 100 DJ Awards, and has made regular appearances at top London venue Cargo.
The showcase gig at MIDEM, will feature tracks from Glideascope's first full length album, "Audio Cinematography," set for release on Akara Music in March 2006 and will be distributed in Europe by Jet Star Phonographics.
Hugh Francis, head of intellectual property at Jet Star commented on this new musical partnership. "Most of my career has been spent with powerful, groundbreaking, branded music creators, and Glideascope has created an album to remind us that music truly is the food of life. The broad spectrum of "Audio Cinematography" will enrich the quality of many people's lives."
Recorded over the last two years, "Audio Cinematography" culminates in emotive electronica, live orchestral strings, world music landscapes, and downtempo beats whilst plunging into the depth-charged dub reggae of old. The title suggests an audio-visual aspect to Glideascope's music, giving the album a unique sense of purpose.
Glideascope revealed, "I wanted to create a cinematic album, when I'm composing I think in terms of moving images creating a blank canvas that people can fill with their own emotions. This was representative of my musical heritage and extensive travels across the globe."
Other recent highlights for Glideascope have included recording sessions with the Prague Philharmonic Orchestra, regular Top 1 listings for downtempo and trip-hop genres on MySpace.com
and material licensed with MTV for the documentary series "Made" and "My Super Sweet Sixteen".
For more information on Glideascope, visit http://www.glideascope.com.
To learn more about MIDEM events, go to http://www.midem.com/App/homepage.cfm?appname=100456&moduleid=2533.
###