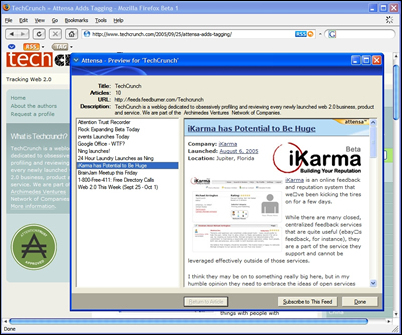 RSS is a fantastic new communication tool but, it isn't helping with the information fire hose. In fact, RSS only increases the flow and makes it worse
Portland, OR (PRWEB) December 14, 2005
San Francisco, CA (PRWEB) December 14, 2005 -- Attensa, Inc., a leading developer of RSS infrastructure software, today announced the introduction of the 1.0 Beta version of its first RSS reader client, Attensa for Outlook 1.0 and is demonstrating Attensa Online, a new, free Web-based RSS application, at the Syndicate Conference in San Francisco, December 12-14. Attensa for Outlook and Attensa Online use Attensa's unique AttentionStream™ article level synchronization that connects desktop, web and mobile RSS reader clients so articles read, organized and deleted are kept up to date no matter where they are accessed.
With Attensa for Outlook and Attensa Online users can easily manage RSS feeds and articles from any computer with an Internet connection. With AttentionStream™ synchronization every action from subscribing to new feeds, updating articles, reading and deleting articles, to creating categories and adding tags will be synchronized in Outlook and on a personal, privacy-protected Web page at Attensa Online's. Users can now manage all the latest information with no more wasted time wading through duplicate content no matter where they are accessing and reading their feeds.
AttentionStream™ Synchronization – One Step Closer to Smart RSS
The introduction of Attensa for Outlook and Attensa Online is the first step in a three phased product strategy that integrates RSS reader/aggregator clients, associated workgroup and enterprise servers and an underlying infrastructure that aggregates and triangulates attention metadata.
Attensa's AttentionStream™ technology is designed to help people cut through information overload by delivering fewer and more relevant RSS articles. By intelligently analyzing AttentionStreams, including the obvious and not so obvious ways people consume information, new possibilities emerge to prioritize and recommend higher value content to users while cutting down on useless and duplicate information. Attensa's unique lightweight AttentionStream enables fast updating of subscriptions at the article level, frequent synchronizations across multiple RSS clients and near real-time analytics to provide prioritized, more relevant articles.
"RSS is a fantastic new communication tool but, it isn't helping with the information fire hose. In fact, RSS only increases the flow and makes it worse," said Craig Barnes, Attensa CEO. "The new RSS clients we are introducing at Syndicate are the first step in using Attensa AttentionStream™ technology to turn the RSS fire hose of information into a drinking fountain."
Introducing Attensa Online – Invitation Beta to Free RSS Web Service
Attensa Online is a free online RSS service that can be accessed anywhere on any computer. Attensa Online is an AJAX web based application that works like a dedicated RSS reader application to make keeping on top of RSS news and information easy. Subscriptions and articles load quickly and marking articles as read and deleting articles is easy.
Resizable panes and multiple views let users create an RSS workspace that is flexible and intuitive. Options for displaying articles include headline only, headline with one-sentence introductions, headlines with first paragraphs or complete articles. Users view the article source Web page without opening a new browser window or tab.
To participate in the Attensa Online beta visit http://online.attensa.com
Attensa for Outlook 1.0 Beta – Three Useful and Easy to Use RSS Tools and Last Chance for Free Download
Attensa for Outlook 1.0 Beta is the sixth significant update since Attensa introduced the full-featured RSS news reader for Outlook in June 2005. When users download Attensa for Outlook they get the Attensa Engine, Attensa for Outlook and Attensa RSS toolbars for Firefox or Internet Explorer. The Attensa Engine is a desktop application that runs outside of Outlook, working in the background to gather, process, organize and store RSS feeds whether Outlook is running or not. With background processing, RSS news feeds are seamlessly pulled into Outlook. There is no waiting for feeds to load every time Outlook is launched. The engine keeps track of RSS subscription preferences and data, and keeps those RSS subscriptions current. It takes care of downloading any subscription files and updating an RSS news feed database on your PC.
Innovative features, fit and finish
Attensa Toolbars for Firefox or Microsoft Internet Explorer
Automatically detect RSS news feeds on a Webpage
Preview Feeds and articles before deciding to subscribe
Quickly access and read news feeds and articles from the browser toolbar
Easily tag Web pages and blog posts using a pull down list.
Articles tagged using Attensa automatically update and synchronize Del.icio.us bookmark lists.
Tagged pages can be explored just using the toolbar
Powerful search tools that make it easy to create unlimited custom news feeds based on keywords from the most popular search engines including:
Blogdigger, Daypop, Del.icio.us, Feedster, Flickr, Moreover, MSN Spaces, Wired News and Yahoo!
News is updated automatically and continuously
Publish to LiveJournal, Blogger and TypePad blogs as easily as sending an email
Automatically load audio Podcast files into iTunes and
Windows Media Player playlists
Attensa for Outlook – Pricing and Availability
Attensa for Outlook 1.0 Beta is a free download. When it is released commercially Attensa for Outlook 1.0 will be cost $19.95. The price includes a one year subscription for AttentionStream™ synchronization with Attensa Online.
For users who only need RSS in Outlook, Attensa for Outlook will continue to work inside of Outlook at the end of the first year's subscription.
Attensa for Outlook 1.0 Beta can be downloaded for free at http://www.attensa.com.
About Attensa
Attensa, Inc. is a venture backed software company committed to developing an RSS Network that intelligently delivers relevant, up-to-the-minute information to people on any device they choose.
For more information and to keep informed about new product introductions, please visit the company's Web site at http://www.attensa.com/ and at our blog at http://attensa.typepad.com.
###