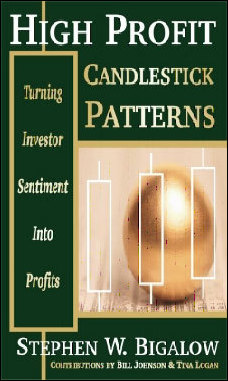 Prices do not move based upon fundamentals, they move based upon the 'perception' of fundamental reasons. The Candlestick chartist knows the difference.
(PRWEB) December 15, 2005 –
When it comes to stock trading the number of individuals investing for themselves continues to increase and so does their demand for stock market training education. In his newest book, "High Profit Candlestick Patterns," Stephen W. Bigalow's clear writing helps new investors, as well as experienced traders, to quickly read a stock market investing chart. His trading strategies for combining candlestick signals and patterns with effective trading rules are clearly illustrated. This makes for easy-to-implement option trading programs, commodity trading analysis, and Forex trading. The common sense elements, found in Japanese candlestick signals, when applied to other technical methods, will produce informational and profitable results.
Mr. Bigalow's first book, "Profitable Candlestick Trading," made a name in the stock market investing industry for applying practical uses to Japanese candlesticks. This is quickly becoming a popular analytical tool due to the quick visual depiction candlestick charting provides versus the confusing line chart method. A recent reviewer said, "I own just about every book that exists on stock trading, options and futures and this one outshines them all. The body of knowledge conveyed in this book comes about as close as it gets to a holy grail for traders. The book is clear, concise, comprehensive, and easy to understand. I had to force myself to put it down. Candlesticks used to be mysterious to me and I always stuck to the old-school use of price bars, technical analysis and fundamental analysis to develop my stock scans and buy/sell strategies. Bigalow elegantly demonstrates effective use of candlesticks. If you are serious about becoming a successful trader, this book is a 'must have.'"
Fundamental analysis programs are enhanced when combining Mr. Bigalow's application of candlestick analysis for timing entry and exit positions. Stephen often quotes, "Prices do not move based upon fundamentals, they move based upon the 'perception' of fundamental reasons. The Candlestick chartist knows the difference." The utilization of candlestick charting illustrated in his book makes trend analysis very simple to understand. Insights from the unique presentations of Japanese candlestick analysis enhance the probabilities of correct market trades. Stock market investing psychology, built into candlestick signals provide a clear evaluation format for portfolio management and stock trading.
Committed to the further education for effectively utilizing candlestick signals, Stephen holds a free weekly internet chat session. These live audio/video internet presentations provide participants with an overview of the recent stock market, including specific stocks of interest, and a thirty-minute question and answer period at the end of each session. The scheduled dates and time are located in his website, candlestickforum under "Stock Chat." Recent chat sessions are available for viewing the next business day, allowing everyone the opportunity to benefit from his stock trading teachings.
Mr. Bigalow has over 20 years experience utilizing and teaching candlestick signals. Read his articles in "Futures Magazine," "Stocks & Commodities," "Traders World," London's "Morning Star" and other stock market investing publications. His website, candlestickforum is one of the leading web sites on the Internet for teaching stock trading investors how to use Japanese candlesticks signals correctly. His numerous speaking engagements, radio broadcasts, and published articles have been an integral part of the candlestick investing education in the US trading markets.
###