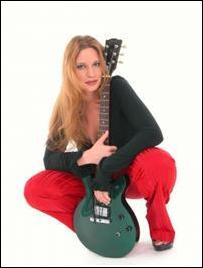 Honey, this is a 10-year town, so just settle in and be patient.
Nashville (PRWEB) December 16, 2005
In a town populated with A-list rock 'n' roll and country acts, it's difficult for a debut music video from an independent artist to make waves. And yet, that's exactly what Tori Sparks and her new music video have done. Instead of sitting back and waiting for that lucky break to take her to the next level, Tori has taken her career by the horns. At only 21 years old, the charismatic songstress has toured in the Southeastern U.S. as well as in France and England. From the minute she set foot in Nashville, she was reportedly told: "Honey, this is a 10-year town, so just settle in and be patient." Apparently, patience is not her strong suit. "As of tonight, I've been in town ten months to the day," she announced to thunderous applause from the audience. Tori has been careful to preserve her unique brand of rock 'n' roll, folk, and blues in spite of unavoidable pressure to fit the mold. "Sparks… (has) stuck to her muse and it was exactly what people wanted." (John Stoehr; Savannah Morning News) The enthusiasm and dedication of the sultry performer's fans is easily explained when encountering Tori's blend of startling humor and audience participation with her emotionally charged delivery. Locals as well as fans from Georgia, Kentucky, and West Tennessee packed the intimate venue. What was expected to be a modest gathering morphed into a shoulder-to-shoulder, standing-room-only bash.
The music video for Tori's first single -- the title track from her eclectic rock 'n' roll album Rivers + Roads -- was debuted to overwhelming response. The screening was followed by comments from the director and cast, a live show, and promotional giveaways. Strong support from Nashville's songwriting community was evident, as many among the throng were familiar faces in the writing world. Many were surprised to learn that Tori, aside from acting as the emcee and headliner for the evening, had organized the event single-handedly. The enterprising entertainer worked around the clock for weeks, personally arranging the food, gifts and raffle, radio and grassroots promotion, designing her own merchandise, and creating the POP items on display. Sparks explained the rational behind the complicated undertaking: "We just worked so hard on the video… I wanted to celebrate with the people who have made this possible, and to get it out there in the local community before it's released nationally. My family and Wayne Hall (the video's director) were a massive help, they're amazing people. But how could I expect anyone to work hard with me or for me unless I'm working a hundred times as hard myself?" Tori's representative Charles Fach -- who signed Rod Stewart years ago, and has worked with Universal, RCA, and Mercury/ Polygram Records -- was in attendance, proudly sporting a Tori Sparks tee shirt. Mr. Fach had this to say: "In all my years of doing this, I've met very few artists who work as hard as (Tori) does. She's got what it takes."
The Rivers + Roads music video was shipped to national media outlets following the event. Jeff Walker and Craig Bann of Aristo Media, a company whose 25-year track record has been distinguished by their commitment to creating longevity in their artists' careers, are handling the video's promotion. Past clients have included Brooks & Dunn, Shania Twain, Toby Keith, CMT, Wal-Mart, the Cystic Fibrosis Foundation, as well as various movie soundtracks (Hope Floats, Coyote Ugly and O Brother Where Art Thou?). In 2004, the company received the Music Row Best of Award for Best Independent Publicity Company. Jeff Walker has personally been involved with the Country Music Academy (CMA), The Recording Academy (NARAS) and Leadership Music. Their expansion into rock 'n' roll and adult contemporary promotion five years ago made them the perfect choice to promote a rising Rock and Blues maven who happens to reside in the Country music capital of the world.
Walker and his associates were pleased when asked to represent Sparks' debut music video. Tori has already made an impression on Music City, having received increasing media attention since the release of the rock 'n' roll album Rivers + Roads. The sultry singer-songwriter has performed alongside national acts like Maria Muldaur and internationally known hit songwriters like Gordon Kennedy (recorded by Eric Clapton, Bonnie Raitt) and Benita Hill (Garth Brooks.) She made her first real splash several months ago, organizing a benefit concert for The One Campaign that included a performance by Universal Music writers the Karg Boys. This spring Tori was nominated for the 2005 Academy of International Recording Artists Awards (AIRA) in the "Album of the Year" and "Female Vocalist of the Year" categories, and was recently nominated for the 2005 SSA Awards in five categories. Tori was selected "Best Acoustic Performance" following the crowd's request for a double encore at her Fan Fair 2005 debut at the Gibson Showcase Theater. For more information or to view her new rock 'n' roll music video, please see http://www.torisparks.com
For further information, please contact the following:
Lisa Nicks
Hand Over Foot Publishing
3101 West End Avenue # 117
Nashville, TN 37203
615-957-7088 (office)
615-269-8307 (fax)
Charles Fach Jr.
Capitol Management Group
1214 16th Avenue South
Nashville, TN 37212
800-727-4984 (toll free)
615-321-0600 (office)
615-321-0182 (fax)
http://www.platinumplusuniversal.com
Craig Bann
Aristo Media
P.O. Box 22765
Nashville, TN 37202
615-269-7071 (office)
615-269-0131 (fax)
# # #