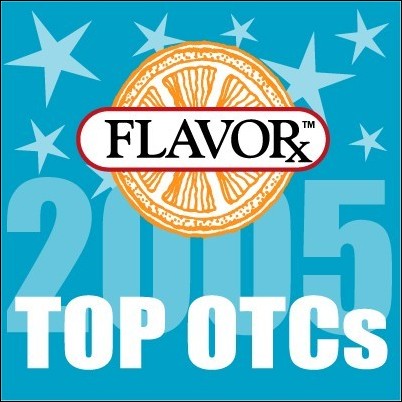 a touch of menthol and licorice.
Bethesda, MD (PRWEB) December 21, 2005
FLAVORx (http://www.flavorx.com), the biotech company that "takes the yuck out of medicine" has announced the findings from its year-long analysis of the most preferred over-the-counter medications. The study also offers a close look into the flavors consumers choose most often to help get the medicine down. The information compiled is a result of FLAVORx's analysis as well as information and opinions of doctors and consumers from http://www.medicinenet.com, http://www.drugs.com and http://www.epinions.com.
10. Kaopectate
This coating agent is an oral suspension used to control diarrhea. The peppermint flavor is typically not a favorite among consumers. FLAVORx recommends: Raspberry, Grape and Orange Cream.
9. Triaminic Cold & Cough, Triaminic Flu & Fever, and Triaminic Cough/Nasal Congestion
These combinations of expectorants and decongestants are used to loosen mucous and clear up the sinuses. The product is bitter tasting and you may need to "hog tie" your children and "pour [it] down their throats." FLAVORx recommends: Citrus Punch, Watermelon and Grape.
8. Pepto-Bismol
This medication is used to treat upset stomach, indigestion, heartburn, nausea and diarrhea. Most consumers don't care for the "wintergreen, chalky" taste. FLAVORx recommends: Vanilla, Blueberry and Apple.
7. Maalox/Mylanta
These antacids are used to treat heartburn and acid indigestion by neutralizing excess stomach acid. Unfortunately, the taste has been likened to "mint-flavored milk," and is typically very chalky in nature. FLAVORx recommends: Chocolate Mint, Banana and Butterscotch.
6. Benadryl Allergy Liquid
This antihistamine is used to treat sneezing, runny nose, itching watery eyes, hives, rashes and other common allergy symptoms. Consumers remark that Benadryl has a rather unpleasant aftertaste that "sticks to your tongue." FLAVORx recommends: Raspberry, Coconut and Pineapple.
5. Children's Advil Suspension and Motrin
These ibuprofen products work to reduce fever, pain, stiffness and inflammation that cause pain and inflammation in the body. Motrin and Advil are both available in grape and berry flavors that are fairly acceptable to taste buds, however many complain about a "burning" aftertaste. FLAVORx recommends: Watermelon, Strawberry Cream and Peach.
4. Dimetapp Elixir
This medication is used for the treatment of symptoms such as runny nose, sneezing, itchy watery eyes and itchy nose and throat. The product has a great grape taste that is readily accepted by most adults and children. However, studies show that 67% of patients prefer Dimetapp with the addition and choice of FLAVORx flavorings. FLAVORx recommends: Bubblegum, Orange Cream and Raspberry.
3. NyQuil Cold
This multi-symptom formula acts as a fever reducer, pain reliever, cough suppressant and antihistamine. The liquid is thick, with "a touch of menthol and licorice." NyQuil comes in both the original green formula and in a red cherry flavor, with cherry as the more desirable of the two. However, one consumer still claims that you will still need to "hold [your] nose and down the sucker." FLAVORx recommends: Grape, Raspberry and Candy Cane.
2. Tylenol/Acetaminophen
This over-the-counter medication works great as a pain reliever and fever reducer. Though it is available in a variety of fruit flavors, some consumers still struggle with the taste and prefer these medications with the addition of flavorings. FLAVORx recommends: Pina Colada, Wild Cherry and Grape-Bubblegum.
1. Robitussin DM, Robitussin CF and Robitussin for Infants
These medications are used to treat frequent and dry coughs. The product taste is extremely bitter, and has been referred to as a "face contorting," "shudder evoking," and may take "15 minutes of itty-bitty sips" to get it down. FLAVORx recommends: Lemon, Orange and Grapeade.
These medications are undoubtedly the top over-the-counter medications for 2005. Their popularity reflects the medications that consumers find to be the most effective at treating their ailments. FLAVORx is dedicated to improving taste quality and making the medicine experience more enjoyable. Though we provide flavoring recommendations for the above medications, FLAVORx offers a menu of over 42 FDA approved and non-allergenic flavors that can effectively convert both prescription and over-the-counter medicines to satisfy any taste bud. For information on more medications and the recommended flavorings, please visit our Wheel of Yuck at http://www.flavorx.com/wheelofyuck.html. FLAVORx is available at over 30,000 independent and chain pharmacies nationwide including Wal-Mart, CVS, Walgreens, Target, Rite-Aid, Safeway, Albertson's and most other fine pharmacies.
For more information, please contact Teresa Chen at 800.884.5771, extension 234.
# # #