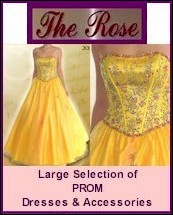 (PRWEB) December 21, 2005
The Rose Dress, Inc., a leading retailer of prom dresses and bridesmaid dresses, is striving to achieve the best customer service in the industry by fully utilizing the latest technology and allowing customers to view the entire ordering process.
Ordering color- and size-specific prom dresses and bridesmaid dresses can be complicated because inventory availability changes quickly and items ordered may not be available, often requiring repeated communication with customers.
At the http://www.TheRoseDress.com, customers can find a simple and innovative way to search for prom dresses and bridesmaid dresses by using the "Search Page", where search lists can be generated by category, vendor, item number, color, size, price and quantity.
"With so much selection and detailed information available on our website, ordering prom dresses and bridesmaid dresses online is a realistic option now," said Lewis Bae, CEO of The Rose Dress, Inc. "We believe our website is an informative and user-friendly way for customers to order exactly what they want, from formal dresses to accessories."
The following information will be available for customers to view online:
Customer information
List of ordered items, color, size, and price
Date and time of each event
Status of each item:
Payment status
Upon ordering, customers will receive confirmation email with links to their records, along with order IDs. When orders are shipped, customers will be notified by email and are provided shipping information, including tracking numbers.
About The Rose Dress:
The Rose Dress has a best buy policy wherein it guarantees to match or beat competitors' prices. The store provides an extensive inventory of prom dresses, bridesmaid dresses, flower girl dresses, and other special occasion dresses, prom shoes and party shoes and accessories. The Rose Dress is based out of Milpitas, California, located inside the Great Mall. For any questions, call 408-957-0671 or visit the online store at http://www.TheRoseDress.com or http://www.promdressdirectory.com/
# # #