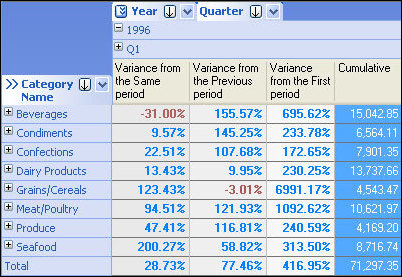 ContourCube 3.0 is made in cooperation with our clients – consulting companies, large corporations and governmental agencies.
London (PRWEB) December 24, 2005
Contour Components announces new version 3.0 of its flagship software product ContourCube - OLAP component embedding Business Intelligence functionality into Windows and Web applications. ContourCube 3.0 includes new .NET edition compatible with Microsoft® Visual Studio 2003 and Microsoft® Visual Studio 2005. The new version implements a range of popular business and statistical functions like date and time calculations, trends, variances, running totals. The user interface has been redesigned and now supports wrapping long strings, vertical and multiline filters area, Windows XP themes and flat appearance. New fast direct data loading technology allows gathering data into one report from multiple data sources.
Contour Components is a Corporate Partner of ComponentSource® – world leader in the market of "off-the-shelf" reusable software components.
Sam Patterson, CEO of ComponentSource says: "The new release of ContourCube V3.0 provides support for Microsoft® Visual Studio 2005, which is in high demand from our customers and clearly this will help customers wishing to move to .NET Framework 2.0. Contour Components have also added detailed features such as text wrapping and time series calculations for variance analysis, which will appeal to our customers in large organizations and government agencies. ComponentSource is proud to carry ContourCube under our US GSA schedule."
"ContourCube 3.0 is made in cooperation with our clients – consulting companies, large corporations and governmental agencies." – said Vladimir Nekrasov, Contour Components' CEO, - "We hope that the improvements made to the new version would extend the use of our light OLAP product in large organizations and would also be appreciated by small and medium business users."
The new Contour Components initiative is to ship three component editions - .NET, ActiveX and Borland VCL – in a single package. This allows developers to create complex solutions integrating Windows and web applications, and reduce investments in moving to the .NET platform.
As of this new version of ContourCube, Contour Components offers extended support service to ContourCube customers. "We believe the new support differentiation would bring the quality service best suitable to each category of our clients, from individuals to large corporations. Our technology support is aimed at sharing our experience in Business Intelligence with software developers and IT managers." – says George Vlassov, Client Service Director of Contour Components. Currently there are three support subscriptions, expected to cover the most of enquiries of ContourCube customers.
ContourCube is also the core of Contour Business Intelligence platform (Contour BI). New version of Contour BI is planned for the 1st quarter 2006.
About ContourCube
ContourCube is a high-performance OLAP component for interactive reporting, data analysis and information delivery. It offers embeddable OLAP technology for Windows and web applications based on relational data. Application powered with ContourCube allows users to create numerous nice-formed screen and printable reports in a minute. User can interact with data: slice and dice, drill down and roll up, pivot with sub-second response times and without additional server.
ContourCube sells in the international market since 2002 and had been incorporated into hundreds of ERP, CRM, analytical applications, web sites, and report distribution solutions deployed to over 50 000 workstations.
Home page of ContourCube: http://www.contourcomponents.com/contourcube.htm
About Contour Components
Contour Components is a private British software company. It offers Contour Business Intelligence platform for developers and end users. Contour software and technologies are based on over 10 years extensive expertise of its team in writing Business Intelligence solutions for banks, enterprises, governments and software developers. Thousands of people in over 50 countries analyze data with Contour BI. Contour products are used in such widely-known companies as Fidelity Investments, Verizon Wireless, Commerzbank, JPMorgan Chase, NEC, Pfizer.
Home page of Contour Components Ltd: http://www.contourcomponents.com.
###