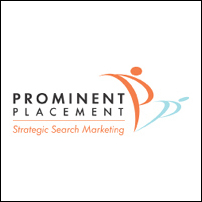 As with all of our account management team members, Star will work closely with her own dedicated portfolio of three to four search marketing clients
Atlanta, GA (PRWEB) December 24, 2005
Keeping up with its growth, Prominent Placement, an award-winning Atlanta search engine positioning service, today announced the appointment of Star Bradshaw to Account Manager. In her new role, Bradshaw will oversee and manage day-to-day website optimization and pay-per-click advertising programs for Prominent Placement's search engine marketing clients.
"Prominent Placement has experienced tremendous growth this year and to support our growing business, we have continued to hire experienced professionals who will provide the excellent level of results, but more importantly, deliver the exceptional level of service clients have come to know and expect from our firm," said Prominent Placement Managing Partner Matt Williams. "We are committed to offering the most comprehensive search engine positioning services of anyone and are very excited about Star joining our client-focused, results-based search marketing team,"
"As with all of our account management team members, Star will work closely with her own dedicated portfolio of three to four search marketing clients," added Williams. "Given that our search engine positioning services are perpetually-oriented, we're continually monitoring client results and updating the program, if necessary. With that type of orientation, however, it's necessary to have stable, committed account managers that work hand-in-glove with the client to intimately know their online business and ensure their search marketing success. And based on what we're already hearing from her clients, we're confident Star will add to everyone's successes."
Before joining the Atlanta search engine optimization company as an account manager, Bradshaw developed her skills in project management and website promotion working as project director for a website design firm. Her prior experience includes serving as Internet project coordinator for the world's largest education database.
She is a graduate of the University of North Carolina at Chapel Hill.
About Atlanta Search Engine Placement Service Prominent Placement:
Prominent Placement, Inc. is a full-service, award-winning Atlanta search engine marketing company founded in early 2001. Nationally recognized as a leader in its field, Prominent Placement consistently demonstrates its foresight to rapidly adapt and stay ahead of an ever-evolving search marketing industry. Prominent Placement provides comprehensive programs incorporating the strategic use of organic search engine optimization, pay-per-click advertising, local search marketing, Internet Yellow Pages, press release optimization, linking, online reputation management and SEM en Español.
The company's selective client roster spans multiple industries with numerous mid-size, growth-oriented businesses located in the Southeastern United States that value high impact results, and are well-focused, niche-oriented concerns. Prominent Placement distinguishes itself from the competition by its extensive marketing background and the ability to provide superior service through client collaboration and education.
For more information or to schedule an interview contact Matt Williams at 888.SEM.MKTR (888.736.6587) or visit prominentplacement.com.
# # #