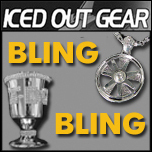 It seems like every time a new movie or music video comes out, we need to update our product line and, thankfully, we have the capabilities needed to keep up.
Van Nuys, CA (PRWEB) December 23, 2005
In 2003, the Oxford dictionary added the phrase " bling bling" to their catalogue of over 187,000 word definitions. Anyone who thought that hip hop culture and hip hop jewelry were just 'fads' that would soon wear out are now finding themselves asking for more ketchup with their crow. The hip hop culture has anything but shrunk in the last few years and is still dominating all forms of media and fashion. Few industries have benefited from this popularity as much as jewelry. Online retailers of hip hop jewelry can be found in many places, however, the largest selection and lowest prices are still found at the original hip hop outlet, IcedOutGear.com.
IcedOutGear.com, http://www.icedoutgear.com , was one of the first to bring the world of hip hop jewelry to the Internet and since their launch in 2001 they have solidified themselves as the industry leader. Eric Liberman, co-owner of IcedOutGear.com, attributes the continued success to their dedication to customer service and constantly expanding their product line to include the latest trends in hip hop jewelry. "It seems like every time a new movie or music video comes out, we need to update our product line and, thankfully, we have the capabilities needed to keep up." At this point, IcedOutGear.com finds that they are very often setting trends, not just keeping up with them. Their inventory now includes over 1,000 products from LED Belt Buckles to Pimp Cups to Iced Out Spinner Pendants including models you cannot buy anywhere else.
Partly due to this product expansion, the current holiday season has been an enormous success for the website. Market expansion has also been responsible for the surge and as hip hop culture grows more influential in music, movies, and fashion, the demand for replica "bling bling" has skyrocketed. The growth is not limited to individual purchases either. IcedOutGear.com now puts great focus on their wholesale venture at HipHopWholesale.com - http://www.hiphopwholesale.com . When asked about how the wholesale venture began Liberman said; "We began getting regular inquiries from people wanting to set up a kiosk in a mall, a brick and mortar retail store, or even a booth at a flea market and it immediately fit. We pride ourselves on providing the most reliable supply of products in the market." Who better to supply the new market with wholesale hip hop jewelry than these pioneers in the industry?
With regards to customer service, Liberman tells us; "Our customers are at the absolute center of our business model. It quickly became clear at the beginning of all of this that we would only go as far as out customer support would take us. " This dedication to customer service keeps their customers happy… and the customers let them know as much. New customers are reassured that IcedOutGear.com is where they should buy their hip hop gear because they can read through hundreds of testimonials left by previous customers. Liberman states that these testimonials have had an increased effectiveness this holiday season. "We get a lot of phone orders and gather as much feedback on those calls as we can. This season, the largest response to the question of 'What made you make your purchase at IcedOutGear.com?' was the testimonials area of the website".
With the continued growth of the hip hop culture, as goes the growth of IcedOutGear. The market expansion is showing no signs of slowing and between their combined dedication to product innovation and customer support; IcedOutGear.com seems to have a bright future.
For direct inquiries regarding retail or wholesale hip hop jewelry, contact Eric Liberman at (818)407-0094 ext. 310.
# # #