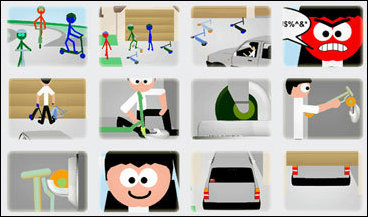 As retailers and consumers will see, our RazrRak Scooter Stand is a marvel of design
Mesa, AZ (PRWEB) December 28, 2005
RazrRak Inc. announced the availability of its new and innovative RazrRak Scooter Stand to help consumers take control of the clutter caused by Razor® or similar styled kick scooters lying around driveways and garages. The RazrRak Scooter Stand works both on the ground to park a scooter and it can be mounted on a wall to store the scooter off the ground and out of the way.
Since 2000, millions upon millions of kick scooters have been sold and the demand continues to be steady. Not until the launch of the RazrRak Scooter Stand has there been a way to conveniently park and store the fun and long-lasting scooters.
The product is designed to work with Razor® and similar styled scooters such as Barbie® Scooter, Batman® Scooter, Bratz® Scooter, Hot Wheels® Scooter and the Huffy® Micro.
"As retailers and consumers will see, our RazrRak Scooter Stand is a marvel of design," said Jeff Crump, President/CEO for RazrRak Inc. "Not only is it functional (great news for the parents), it also looks cool (great news for the kids)."
The product is currently only being sold to retailers for resell both online and in-store. For additional information, contact Jeff Crump or visit http://www.RazrRak.com. RazrRak product is patented.. RazrRak name and RazrRak logo are trademarks of RAZOR SUB IP LLC.
Consumers can purchase a RazrRak online from Boondoggles and Planet Grind using the following links:
Sears: http://www.sears.com/shc/s/p_10153_12605_SPM74458484P?prdNo=1
Organize.com: http://www.organize.com/razrrak.html?Prod_ID=razrrak&qid=
and other retailers listed here: http://razrrak.com/buyusa.shtml
About RazrRak Inc.
RazrRak is where form meets function. Headquartered in Arizona, RazrRak designs, manufactures and sells unique and innovative racks and stands for scooters. Our solutions take the clutter out of people's lives by providing a functional and attractive product to store scooters either on the ground or on the wall.
Trademarks are protected by the respective owners.
Contact:
Jeff Crump
RazrRak Inc.
480-710-0953
http://www.RazrRak.com
###