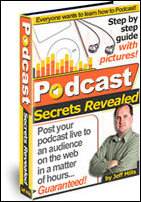 tab to the Yahoo! Front Page. Since launching Audio Search in August, user response has been great; proving yet again that the Web wants its audio. So, it is time that a larger audience gets to enjoy the sound…
Cottage Grove, MN (PRWEB) December 29, 2005
Podcasting slowly crept into the vocabulary and the internet marketplace in 2004 as the birth of the home made radio show, where people can listen to music and talk about any subject they want with no rules and no regulations on their mp3 Apple iPods, Macs and PC's.
Later in 2005, author Jeff Mills, predicted in his e-book, "Podcast Secrets Revealed" (found at http://www.podcastsecretsrevealed.com), that "Podcasting" would be the most popular trend of 2005, just like "blogging" was in 2004.
Magically, Jeff's prediction came true.
As Jeff was sitting in a Burger King restaurant, in late 2004, he first saw the word "podcast" in print in a USA Today newspaper.
It was an article about the GodCast Podcast, and how people were taking the messages of the Scriptures and sending an audio mp3 through the internet in an RSS feed that could be downloaded with enclosures and automatically put into your Mac or PC or favorite mp3 listening device, like an Apple iPod, all at once.
For the non geeks, what that means is that audio files were automatically able to be downloaded and listened almost as easily as downloading mp3 files from any popular mp3 music site. Cool stuff!
What happened next was that in 2005 every major news program, talk show, or superstar musician got into podcasting, or sending their audio content through their own home grown RSS feeds right into people Mac's, PC's and mp3 players.
Then iTunes and Yahoo got into the podcast business over the summer of 2005 and podcasting went main stream. It literally exploded.
User's mp3 players were suddenly filled with Rush Limbaugh, ESPN, Tech TV, talk shows, new music shows, even audio porn/sex shows, and many other mainstream media programs and corporations were sending out audio mp3's to their loyal fans for free.
People were filling up their iPod gigabytes faster than one could say "podcasting revolution."
It has been a wild year for the word "podcast" and when you type it currently, at the time of this writing, into Google.com, "podcast" now has over 81,300,000 sites linked to that word.
Because of the popularity of Podcasting in 2005, Erin McKean, editor in chief of the New Oxford American Dictionary, said: "The word has finally caught up with the rest of the Apple iPod phenomenon."
According to the New Oxford American Dictionary, "Podcast" is now the word of the year 2005.
Right on the heels of "Podcast" making the word of the year, Yahoo quietly launched a new search function to try to corner the AUDIO search market.
As people were doing their last minute shopping and frantically getting ready for the holidays, Yahoo added a new search tab on their popular search menu called, "Audio."
A Yahoo spokesperson said, "I wanted to spread the word that we're turning up the volume a bit on audio search by adding a new "Audio" tab to the Yahoo! Front Page. Since launching Audio Search in August, user response has been great; proving yet again that the Web wants its audio. So, it is time that a larger audience gets to enjoy the sound…"
Whatever Yahoo isn't indexing with its Audio Search can be submitted by the creators of audio files, so podcasters may want to quickly get their shows listed in there, and gain top spots, while the gettin's good.
The company wrote a Media RSS specification that accompanied the debut of Audio Search. This spec better supports multimedia content; Yahoo also uses it for Video Search.
Speaking of Video Search....What is already on the radar for 2006?
Self produced video shows, like TV stations, will crop up all over the internet, as people begin to broadcast their own video/tv shows and play them on media players like the iPod Video Player and other devices. Google is paving the way for video, by allowing people to do searches for videos right from their search box.
This video revolution has also become more user friendly with more tools, more resources and software making publishing online videos as simple as publishing a blog.
iTunes is coming along quickly too, with Video Podcasts which might be a misnomer, but the arrival of the video podcast show is now here too.
Video Blogging or Vlogging is my prediction for the most popular word in 2006.
Jeff Mills is a former Youth Pastor of 9 years, who is now a full time internet information entrepreneur, book author, speaker, sales coach, and also an avid traveler.
Jeff has passionately pursued seeking the best aways to create podcast shows and is the respected author of the popular e-book, http://www.podcastsecretsrevealed.com.
At http://www.podcastsecretsrevealed.com, one will learn step by step what a podcast is, how to listen to one, how to make one and even how to make money from one's podcast show.
###