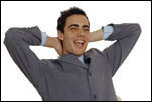 It's a really nice way to cap off a great year for us. To see membership growing as a result is just the icing on the cake
Louisville, KY (PRWEB) December 29, 2005
DaytradeTeam announces record levels of profitability in its options trading systems in December. As a result, membership has grown at a record-setting pace of 50% in the fourth quarter of 2005.
"We're extremely proud of our options trading results for December," stated Landon Swan, President and Head of Options Trading at DaytradeTeam. "It's a really nice way to cap off a great year for us. To see membership growing as a result is just the icing on the cake," said Swan.
DaytradeTeam reports that only its Directional Put/Call System suffered losses in December, while its Vertical Credit Spread System locked in profits on both of its positions, with a 33% profit on QQQQ options and a 52% profit on GOOG options in December.
Most impressive, however, were the returns generated from the Butterfly Spread System, which achieved an 82% profit on QCOM options, a 50% profit on MCD options, and a breakeven trade on AAPL options.
Complex options spreads such as butterfly spreads, vertical spreads and iron condors are mainly utilized by professional and institutional traders. DaytradeTeam seeks to give this advantage to individuals through real-time trade alerts that are designed to be both profitable and educational in nature.
"Obviously, we are most known for our expertise in day trading," commented Swan, "so it is really nice to be recongnized for the quality and consistency of our options trading systems as well. There is really nothing more satisfying than having a happy, profitable and growing membership base. We look forward to expanding on the successes of 2005 as we move into the New Year."
DaytradeTeam has been providing stock trading and options trading alerts and education to active investors since 2000.
Note that options involve risk and are not suitable for all investors and that past performance cannot guarantee future results.