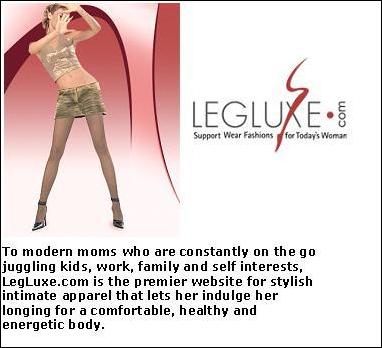 Solidea combines the perfect blend of the latest innovations in fashion and beauty along with medically proven forming, supporting and activating functions
New York, NY (PRWEB) December 31, 2005
LegLuxe.com has launched a new online store dedicated to fashionable support wear for women who want look and feel good. This new state-of-the-art website offers intimate apparel that is fashionable on the outside and is designed to instantly relieve health or appearance problems on the inside.
All products on display on LegLuxe.com are designed using special weaving techniques, providing tried and proven therapeutic benefits to the woman who wears them.
LegLuxe.com is the first ever website of its kind. "By partnering with Solidea, the popular Italian specialty hosiery brand, we were able to offer even to the most discriminating customer the best of both worlds" says Daniel Moffer of LegLuxe.com. "Solidea combines the perfect blend of the latest innovations in fashion and beauty along with medically proven forming, supporting and activating functions" he says.
The array of products on LegLuxe.com offers beauty, health and well-being solutions in three areas: Leg Health, Maternity and Cellulite
Leg Health
Most women experience leg fatigue or other leg health problems. This issue is compounded for women who are constantly on the go juggling kids, work, family and self interests.
Leg health problems can be costly and interfere with your life in many ways.
Your work life
Most women who work experience aching legs, tired or heavy feeling legs, tension in their legs, or swollen legs. It affects their job or work. Some even have to overlook new opportunities that may have required "too much" leg work even if it means more money.
Some women say their leg health has made them feel less self-assured or confident or has affected the number of workdays they missed. It sometimes even impacts their competence at work.
Your quality of life
Leg problems impact your lifestyle in many ways:
ability to exercise.
thinking of yourself as being old
inability to go shopping
becoming more of a couch potato
inability to conduct your daily routine
inability to participate in social events, such as going dancing
spending leisure time with partners and children
not keeping up with your friends
and makes some thinking of themselves as being unhealthy
The graduated compression hosiery by LegLuxe.com revives damaged veins and valves, the primary cause of leg health problems. They stimulate upward blood flow. Blood pooling in the veins is virtually zapped so swelling is reduced. Spider and varicose veins are erased. Tired and achy legs are revitalized.
Graduated compression hosiery acts like a second layer of muscle. It bolsters the performance of the calf muscles and venous circulation. The graduated compression is strongest at the ankle and decreases over the length of the leg.
For complete leg health information, visit: http://legluxe.com/problems_solutions.php?problem=leghealth
Maternity
Loving your changing body during pregnancy is no longer a challenge. LegLuxe.com now offers an attractive solution to the single biggest cause for leg vein problems: pregnancy.
It is estimated that 20 to 40% of all pregnant woman develop venous problems. It may develop as early as 6 weeks into pregnancy, sometimes even before your first missed menstrual period. Vein disease is even sometimes the first sign of pregnancy!
Venous problems in pregnancy also cause great discomfort or pain in the lower body, including tired, achy and heavy legs or swollen ankles or feet.
These problems may disappear after pregnancy. However, left untreated, at least one half of women affected will have this condition permanently, according to medical studies.
Stretch marks and cellulite in pregnancy
Cellulite is a build up of fat deposits underneath the skin. It's usually visible on your thighs, hips and buttocks. Cellulite is very common in pregnancy. The reason? weight gain and hormone changes.
Pregnant women can now treat themselves to the gentle power of therapeutic supportwear from LegLuxe.com. Our exclusive chic will make them look beautiful outside while keeping their body cozy and healthy inside.
For complete pregnancy information, visit: http://legluxe.com/problems_solutions.php?problem=maternity
Cellulite
Often referred to as the "orange-peel" or "cottage-cheese" effect, cellulite plagues over 90% of women today. Resistant to diet and exercise, cellulite affects even young, thin women who are devoted followers of stringent exercise and nutritional regimens.
Although most recognized for its external appearance, cellulite formation actually begins at a cellular level. As fat cells enlarge, the cell membrane becomes distorted, losing shape and definition. Microcirculation is impaired, causing fluid retention and soft tissue toxin deposits; externally, the skin develops an unsightly and embarrassing dimpled appearance. Although advancing age, lifestyle habits, hormonal factors, and body types may predispose certain woman to cellulite and fat retention, all women are at risk.
The Micro-Massage Magic line of shapewear utilizes a patented "wave" mesh that stimulates micro-circulation by activating a delicate massage with regenerating compression. It then gradually drains fats and fluids from the affected vessels.
For complete cellulite information, visit: http://legluxe.com/problems_solutions.php?problem=cellulite
About LegLuxe.com
To modern moms who are constantly on the go juggling kids, work, family and self interests, LegLuxe.com is the premier website for stylish intimate apparel that lets her indulge her longing for a comfortable, healthy and energetic body.
Our online store is intended to provide a rewarding self-service shopping experience and be fully supported by our expert personal service. Our customers' complete satisfaction is our goal and we treat every order with the utmost care. Every order is unconditionally guaranteed and we will fully refund any purchase that does not meet the customers' expectations.
Free Shipping! No Minimum order. All you have to do is ship to an address in the continental USA and select the Standard Shipping option at checkout.
All product and company names herein may be trademarks of their respective owners.
Contact information (press members only):
Daniel Moffer
Director of Communication
877.480.1637
# # #