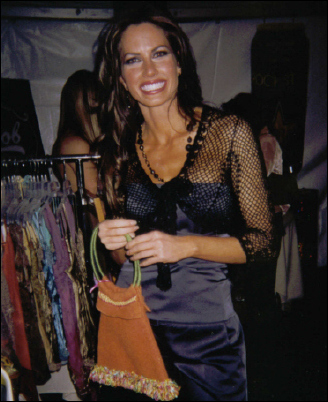 Pembroke, MA (PRWEB) January 3, 2006
Danni Boatwright is the latest winner of the wildly popular Survivor Guatemala, but her real triumph was scoring an awesome FrostedBrownie.com handbag at the Radio Music Awards in Las Vegas December 19th.
Now that Danni is out of the jungle, she is looking quite fashionable and showing up at all the celebrity hot spots. Her past as an international model and beauty queen is evidenced in the incredible fashion sense she shows with her choice of handbag from Frostedbrownie.com at the Radio Music Awards.
Award shows have started dolling out an incredible array of gifts. The celebrity gift bags for the Academy Awards are filled with goodies worth over one hundred thousand dollars. Sure to be included are the latest technical gadgets like ipods and blackberries. But the real finds are new styles and fashion gold that are gifted out to the super-stylish. Because of their incredible array of handbags, unique jewelry, and all things "accessory", Frostedbrownie.com has been a part of two of the latest award shows: the American Music Awards and the Radio Music Awards, where Ms. Boatwright picked up her handmade, one-of-a-kind bag from Frosted Brownie.
Miss Boatwright represented Kansas at the 1996 Miss USA Pageant. Most recently, she overcame incredible heat, howling monkeys and incessant mosquitos to win Survivor. Now she can enjoy her prize money, her newfound stardom, and the gifts of celebrity.
Frostedbrownie.com has rocketed to super stardom themselves in the short time they have been around. In less than one year, the gals at Frosted Brownie have taken their items from a small town phenomenon to an international buzz. They carry beautiful beaded jewelry and fun, trendy items along with hot, fashionable handbags. The two partners, Jane Cournan and Amy Tripp, are using their fashion sense and business backgrounds to take a little hobby and turn it into a big business!
# # #