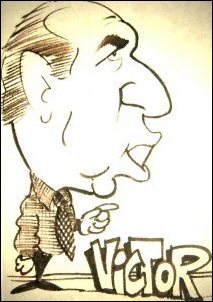 Security will always be a key subject, but so will issues like World Hunger, Euthanasia, the China Olympics, US/World Relations, Identity Theft, Drug Addiction, Defense Budgets, and Terrorism
Ridgefield Park, NJ (PRWEB) January 2, 2006 –-
Vic Plessner, the Host of "Global Issues" which is broadcast every Tuesday (2am 10am 6pm) and Friday (Noon and 8pm) and on Saturday (4am) EST as a live internet talk radio show on the RadioBangkok network (http://www.radiobangkok.net/), will discuss with Santa Claus what is was like this past Christmas.
"Expect some surprises when you hear Santa's reindeer bring in some dogs to play during the broadcast," said Vic Plessner. "Santa will also talk about his new wife. The more I listened to the recording, the funnier it got."
"I thought it would be nice to start our new season on RadioBangkok with a humorous show interviewing Santa Claus" said Vic Plessner, the host of "Global Issues".
On the more serious side, Vic is known for being direct with his guests. "I might disagree with a particular guest but I will never shout them down or talk over them unless I need to go to a commercial break. People are sick and tired of TV shows where the host seems to encourage everyone being rude and cuts off the guest if they disagree. I try to ask polite hard questions but I want my guests to enjoy the show and feel comfortable" said Vic. "So far it has worked and each guest seems to become a friend whether we agree or not".
The Internet Radio Talk Show, "Global Issues," gives listeners the opportunity to expand their horizons on prominent affairs that address worldwide concerns. This show is dedicated to informing the public on issues that pertain to them by introducing guests from various government agencies and the private sector who are working to improve global and national interests throughout the world.
"Security will always be a key subject, but so will issues like World Hunger, Euthanasia, the China Olympics, US/World Relations, Identity Theft, Drug Addiction, Defense Budgets, and Terrorism" said Plessner. To access the show, log on at http://www.radiobangkok.net/
Host Victor Plessner is a leading Global Security Consultant with over 35 Years Experience consulting his clients on such issues as protecting against terrorism, prisons, courts, and shipping port security, to providing threat analysis, and developing security Policies and Procedures for all types of facilities. For more information visit http://www.vhpconsult.com/
Contact Information
Vic Plessner
Skype: vhpgroup
Cell Phone in Thailand: +66 7-114-9557 or Local: 07-114-9557
US Phone: 201-747-1363
###