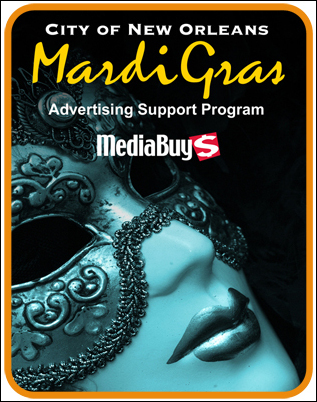 Some will get involved for philanthropic reasons, but many have a vested stake in this market and would like to see its' restructuring as soon as possible. Mari Gras is a way to assist in that effort.
Valley Village, CA (PRWEB) January 3, 2006
(PRWEB) January 3, 2006 -- In an effort to help bolster economic development in New Orleans after the devastation caused by Hurricane Katrina, city officials have authorized the nation's leading media buying club, MediaBuys, LLC to seek out corporate involvement for Mardi Gras in February of 2006.
The announcement comes on the heels of an article released by the Wall Street Journal (December 7th, 2005-New Orleans Seeks Corporate Sponsors For Mardi Gras, by Corey Dade) whereas the City of New Orleans decided to seek out corporations willing to pay $2,000,000 to become the "official sponsor" of the Mardi Gras-a first in its 150 history.
MediaBuys will not only lead the quest for "Official Presenting Sponsors", but also help the city find additional funding from "Corporate Supporters" to collectively pay for a major Mardi Gras advertising support campaign, which could end up becoming a multi-million dollar ad budget. The club has waived its standard retainer fees and reduced its commission to work on the event. MediaBuys will look first to its existing 850+ media buying members who represent thousands of advertisers.
"After completing an extensive RFP process, we are pleased to offer MediaBuys the opportunity to represent the City of New Orleans in its efforts to acquire corporate supporters and sponsors for the city's Mardi Gras celebration in 2006," states Ernest Collins, the city's economic-development office's executive director of arts and entertainment. "They have the network to reach advertisers quickly and the ability to help us gain a broader reach for our ad budget."
Many believe that economic recovery is the first step in the rebuilding process. In years past, Mardi Gras has generated as much as $1.056 billion into the local economy (2000 Louisiana Business Survey, Division of Business and Economic Research, University of New Orleans) and created 75,000 jobs each year. According to the Wall Street Journal, Mardi Gras drew an estimated 1.4 million visitors and generated $220.5 million for City of New Orleans in 2003.
"In New Orleans, one of the drivers of the local economy is the tourism industry," continues Collins, "A successful Mardi Gras will not only inject badly needed revenue into the local economy, but will also provide us with an opportunity through media coverage to tell a more complete story of our recovery."
Presenting Sponsors will be offered a $2,000,000 package that will be specially crafted based on the needs and desires of the sponsor. Items to be considered may include press releases and media coverage, media placement in the national ad campaign, signage, product sampling along the parade route and other inclusions at various Mardi Gras related events. The majority of the funds collected from these sponsors will be directed to the city to be used for extra police and fire protection.
The "Mardi Gras Advertising Support Program" will have packages ranging from $5,000 to $250,000 allowing advertisers to show their support for the economic development of New Orleans. The collective funds will be used to formulate a national campaign budget and each individual package purchased will carry a specific number of corporate mentions in various media including network television, cable television, radio, major market newspapers and the internet. Proceeds collected will be used to pay for production costs and media placements and a portion will go directly to the City of New Orleans to offset event related expenses.
The support program ads will be targeting potential event-attendees across America with the positive taglines symbolizing a need to move beyond the distress and into a rebuilding process. On January 9, 2006 in Los Angeles, MediaBuys will sponsor The Critics Choice Awards pre-show cocktail party that will be dedicated to the recovery of New Orleans. Nominated actors and directors will be invited to record promotional cameos encouraging Americans to attend the Mardi Gras celebration and will be used in the broadcast spots and promotional activities.
In addition, the advertising will carry company logos at the end of each ad to show corporate support for the City of New Orleans. All sponsors will receive a Proof of Placement Affidavit and Final Run Report from MediaBuys, and a Certificate of Appreciation from the City of New Orleans.
"We have a short window, but we are confident there are many corporations willing to help with the ad campaign," states MediaBuys CEO, Chick Ciccarelli, "Some will get involved for philanthropic reasons, but many have a vested stake in this market and would like to see its' restructuring as soon as possible. Mari Gras is a way to assist in that effort."
MediaBuys is joined with New Orleans advertising agency Bright Moments and outside agency The Sharpe Alliance who are helping with strategic organizational plans. In addition, special program partners include Universal Studios, BFCA, Keep Me Posted, L.A. Digital, Media Distributors, Razor & Tie, Koeppel Direct, Telecasters and DG Systems, all who are offering special in-kind contributions to the effort.
Mardi Gras will be held on February 28th but the ad space reservation deadline is January 27th.
About MediaBuys
The MediaBuys media buying club concept began in September 2002 as a way to make B2B ad space buying easier and cheaper for 35 clients of its original ad agency in Los Angeles. The club became a company (MediaBuys, LLC) in September of 2003 after adding B2C buys in the form of Cable and Spot Television, Radio, Magazines, Regional Newspapers and Out-Of-Home.
MediaBuys' Media Store (a shopping cart environment for media) is a highly unusual way of selling ad space, especially when it comes to broadcast, which is typically driven by detailed media planning research and CPP values. Mediums available in the online process include ad space for Cable, Spot and Network Television, DRTV, Local and National Radio, Magazines, Newspapers, Newsletters, Out-Of-Home, On-Screen and Interactive, in both B2B and B2C categories.
In addition to 3750 advertising vehicles in its online Media Store, MediaBuys is an authorized representative for many high-profile entertainment events such as the GRAMMY® Awards, the Latin GRAMMY® Awards, EIF's GRAMMY® Jam, the BFCA's Critics' Choice Awards®, The Sundance Film Festival®, and MusiCares®.
Today, MediaBuys has become America's fastest growing media buying club. It has matured to over 850+ buying members covering thousands of corporations nationally, and represents millions of dollars in available media space.
PR Contact:
Andy Gelb
PMK/HBH
310-289-6200
City of New Orleans
Ernest Collins
Executive Director of Arts and Entertainment
Telephone: (504) 658-4940
Corporate Contact:
MediaBuys, LLC
Chick Ciccarelli, Managing Member, CEO
Ken Rose, V.P. Business Development
Telephone: (818) 755-5020
# # #