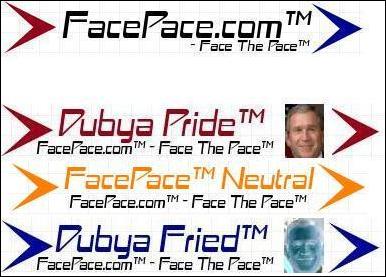 San Francisco, CA (PRWEB) January 4, 2006
FacePace.com, a new and revolutionary online advertising and political race, has been launched.
FacePace involves a pro-Bush team "Dubya Pride" and an anti-Bush team "Dubya Fried." Both aim to raise enough points to surpass George W. Bush's total votes cast in both his presidential campaigns, 112,496,612. The first team to surpass this total is declared the ultimate winner of FacePace.
Points will be contributed to each team when advertisers purchase them to publish their ad on FacePace. The purchase of points, which are sold in sets of 537—the either beloved or dreaded number that represents Bush's 2000 margin in Florida—grants the purchaser to submit an ad for publishing on FacePace. Ads purchased with the most points will be featured first and foremost on FacePace. Those who choose to be Neutral will have their points contributed to both teams.
The FacePace concept is unique because it makes the viewing of ads a captivating experience by associating it with politics, an area that generates intense fervor and interest and has caused a distinct divide around the globe. Viewers will constantly flock to the site to check the progress of the competition. Therefore, advertisers are promised tremendous exposure as the contest progresses and everyone is guaranteed intense competition as the point total for each team elevates towards the goal.
Numerous advertisers have already purchased points and submitted their ad to begin the competition. The ads may be viewed now at FacePace.com
Many predict that FacePace will transform into one of the most revolutionary, heart-rending, and captivating political competitions in the history of the Internet, as it utilizes the political fervor that is ingrained in most individuals and applies it to practical means.
# # #