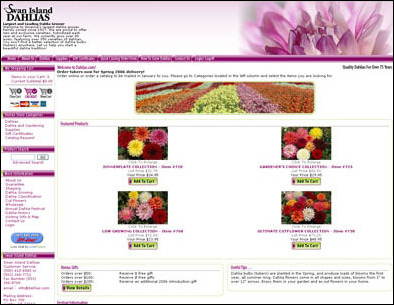 We are America's largest and leading dahlia grower
Canby, OR (PRWEB) January 9, 2006
Ordering dahlia bulbs, seeds, and gardening accessories just got easier. The owners of Dahlias.com have redesigned the site to be more user friendly than ever by including a live assistance feature.
Shoppers who have questions about dahlia care and dahlia tuber varieties can get real-time assistance via online chat with a customer service representative.
Dahlias.com offers gardening enthusiasts the unique opportunity to buy directly from the nation's leading dahlia grower, Swan Island Dahlias. The farm harvests over 40 acres of dahlias at its farm in Canby, Oregon. It is open to the public, and with the new site design customers everywhere can buy dahlia bulbs. Dahlias.com attracts new customers by annually introducing five to fifteen new dahlias that are hybridized at the farm. No other grower sells these varieties, which gives gardeners the advantage of filling their yards with unique dahlia flowers.
Swan Island Dahlias has been owned and operated by the same family since 1963. Brothers Nicholas Gitts and Ted Gitts are the current second generation owners of the family business. "We are America's largest and leading dahlia grower," says Nicholas Gitts. "You won't find a better selection of dahlia bulbs (tubers) anywhere, and that's 100% guaranteed."
One of the best features of Dahlias.com is the abundance of beautiful, high-quality photos, which give shoppers an idea of what to expect from bulbs when they bloom. Additionally, the site offers comprehensive information about dahlia care, including tips for growing and storing dahlia bulbs. While ordering online, live chat assistance is available in case shoppers have questions about the company or its products. It's never been easier to buy dahlia flowers and enjoy these vibrant Mexican flowers.
The redesigned site at Dahlias.com offers a tremendous opportunity to anyone interested in growing rare flowers. Gardeners can shop at Dahlias.com with complete confidence, knowing that they're buying bulbs guaranteed to grow from dahlia specialists who process more than 350 varieties every year.
About Dahlias.com:
Dahlias.com is operated by Swan Island Dahlias, a dahlia flower farm located in Oregon's Willamette Valley, in the town of Canby, Oregon. Swan Island Dahlias has been in operation for more than 75 years and has been owned and operated by the same family since 1963. The company is America's largest and leading dahlia grower.
Contact:
Nicholas Gitts
(800) 410-6540
# # #