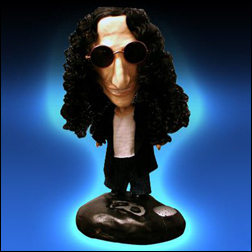 When your 15 minutes of fame are over, contact me. I have a SERIOUS idea to add another 15 minutes under your belt.
Rockaway, NJ (PRWEB) January 6, 2006
With the media frenzy, billboards, online ads, tv and print advertising campaigns already promoting Howard Stern's move to satellite radio, almost every customer is informed about this historical moment. But wait, there's more.
Entrepreneurs Brian Schwartz, 24, of New Jersey and John Hill, 24, of Florida have joined forces for the ultimate tribute to one of the most successful figures in American media. In a collaborative effort, both are selling on eBay the first and only custom-made Talking Bobblehead of all Media. Visit http://cgi.ebay.com/ws/eBayISAPI.dll?ViewItem&item=6242486995 to see the bobblehead.
In November of 2005, John, a crafty real estate agent with a niche of creating custom bobbleheads (http://www.TalkingBobbleheads.com), made a name for himself by selling a Trading Spouses God Warrior Talking Bobblehead for a final amount of $870. John, better known as jhbmw007 on eBay, attracted national media attention, had accumulated over 400,000 visitors, 92 bids and nevertheless, the bobblehead made an appearance on the Jay Leno Show.
During the Trading Spouses Bobblehead auction, Brian, a marketing coordinator and web designer, also known as EZas123 on eBay (http://www.PIMPINisEZ.com) with a niche of targeting sellers looking to 'spice up' their auctions, sent John an email. "When your 15 minutes of fame are over, contact me. I have a SERIOUS idea to add another 15 minutes under your belt."
Coordinating with Schwartz, John went right to work on the Howard Stern bobblehead. The bobblehead was made of Sculpey clay, has real doll hair, a pair of glasses, lifelike clothing, and a customized base with a permanently built-in play button to hear sound clips of Howard's famous sayings. Both agree this can be a 'Serious' publicity tool for Howard Stern and can possibly persuade new subscribers. As John was finishing up the bobblehead, Schwartz was preparing the visual effect filled and music enhanced auction listing to "potentially be viewed by hundreds of thousands, maybe millions."
Schwartz further explains, "Aside from all of the potty humor, we believe Howard's playbook in catering to his tightly targeted market and maintaining a consistent brand throughout his career can be applied to Small Business Marketing & Entrepreneurs everywhere. As young entrepreneurs, we aim to benchmark Howard's marketing success with our very own ventures."
And the rest is history in the making.
###