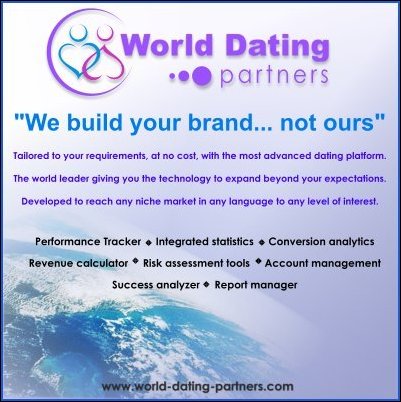 creating a seismic move forward in the industry of online dating
(PRWEB) January 27, 2006
One of the foremost independent online dating providers is launching its new dating system in late January 2006. The company has spent over £2.5 million in the last two years re-developing its completely new approach to the online dating and affiliate industry; their new dating systems are believed to outmatch the quality of both software solution providers and dating sites alike, it appears that not even Lavalife, Match and Meetic Comparison Chart, to name a few, can hold a candle against the advanced innovations, new technology and community based dating portals, resulting in a system that is all encompassing and perfectly unique.
Understood to be a giant step in the evolution for online dating World Dating Partners (The solution provider) is positioning itself as not just another dating partner network - but a change-leader for the future of online dating. The Singles approach re-focuses not just conventional partners, like portals, affiliate professionals and content feeds, but broadens its reach to anyone both online and off who have contacts that they can refer. A recent example of this was with a Computer hardware company who supply servers to a large base of Internet companies, who referred us to a major radio station with over 2.5 million users – resulting in a commission awarded to the hardware suppliers of $1 million per month.
The World Dating Partners system is a fundamental system that allows any one for any business reason to create or integrate a tailor made dating system of the highest excellence to run together with its existing concepts, where there is a common goal or existing connection. World Dating Partners use a myriad of bespoke or ready made systems, cutting costs in some cases by millions of dollars, and sweeping away difficult staffing and hosting issues. The new World Dating Partners way is expected to turn the dating industry on its head, and is completely free to its partners.
As a market leader, World Dating Partners, now the Gold sponsor of the Miami dating conference iDate in 2006, are perceived by the few that have previewed their new system, as "creating a seismic move forward in the industry of online dating" and a vision of what the future may look like for us all within the industry. "if you would like to see an idea that threatens how the future of the industry will change, then this is by far the winner." Excitement is building in advance of the product unveiling at the end of January. The buzz of gossip, including rumours of partnerships with some major Internet consortiums, indicates that this will be one of he the most exciting discoveries within the industry for years.
Robert Fathers, President and CEO of Singles Ltd revealed, "Much of what we do is still confidential. I will say, however, that we can offer free, high-tech quality sites in any language, geographical location and interest, which will allow anyone to produce global or niche sites in any way or form that they wish. This means that any individual or organisation can produce and own a site better than any other dating system on the market today" This means that the WDP engine can produce a combination of many millions of niche dating sites worldwide.
The system will go live on January 28th. Market reaction is already astonishing with a pre-launch enquiry list of thousands waiting to apply for the new partnership program; a special reserve for early applications has been put aside for visitors to the iDate2006.com conference and within the first few days of the launch.
# # #