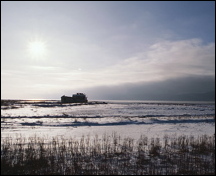 (PRWEB) January 10, 2006
Along with proper nutrition, pure water and exercise, sunlight is an essential element in staying healthy. Unfortunately, according to Joseph Mercola, D.O., founder of the world's most popular natural health website http://www.Mercola.com, most people are victims of "sunlight starvation". Dr. Mercola believes that very few of us are able to receive the hour of unfiltered sunlight exposure we require on a daily basis.
Due to factors such as season of the year, latitude, air pollution, working indoors and anti-sun propaganda, Dr. Mercola reports that there is a widespread deficiency in sunlight exposure, particularly among Americans. To make up for this sunlight deficiency, he recommends the use of full spectrum lighting — the next best thing to sunshine.
Full spectrum lights are designed to help people obtain the proper balance of sunlight that is essential to physical and mental health. These lights project a full spectrum of color that closely matches natural daylight, as well as infrared and ultraviolet wavelengths.
Our "sunlight starvation" is reflected in the following five little-known factors, all of which can be addressed by a combination of natural daylight and full spectrum lighting:
1. About 80-90% of the U.S. population is deficient in vitamin D, which is produced in the skin upon exposure to the sun's ultraviolet rays. Although everyone knows that vitamin D is important in the growth and maintenance of strong bones, most people are unaware that a deficiency of vitamin D is associated with diseases such as diabetes, cancer, heart disease, arthritis, infertility, fatigue, depression, autoimmune disorders and obesity. To lower our risk of being affected by these disorders, we can supplement our ability to synthesize vitamin D by using full spectrum lighting indoors.
2. We have roughly 24-hour body clocks or circadian rhythms, which regulate our sleeping patterns, energy levels, hormone production and many other biological processes. Adequate sunlight is the key factor in controlling our body clock. Since we are not able to receive the outdoor sun exposure we require, we can better regulate our circadian rhythms by utilizing full spectrum lights in our home. This will contribute to better sleep, less jet lag, proper energy and generally improved health and well-being.
3. A lack of sunlight can also cause mood disorders such as seasonal affective disorder (SAD) or the "winter blues", particularly in the darker seasons of the year. Serotonin, a brain hormone associated with mood elevation, increases with exposure to light. Conversely, the hormone melatonin increases with less light, making us feel tired. Full spectrum lights have been shown clinically to be highly efficient in treating these mood disorders, often just as effectively as antidepressant drugs.
4. The "sunshine vitamin" has been shown by many medical studies to have a protective effect on many cancers. In fact, there is a close inverse relationship between cancer mortality and levels of ultraviolet-B light rays, particularly in cancer of the prostate, colon, breast and ovaries. This makes insufficient exposure to the sun's UV rays an important risk factor for cancer, one that can be offset by the use of full spectrum light.
5. Sun exposure is also important in keeping our immune system strong, exerting an anti-inflammatory response. In fact, there is a preponderance of scientific evidence to indicate that decreased sunlight and subsequently lower vitamin D levels are closely related to our risk of acquiring the flu, particularly in the wintertime. Full spectrum lighting can also minimize the risk of other immune disorders related to inadequate sunlight, including multiple sclerosis, rheumatoid arthritis and Crohn's disease.
For further information, Dr. Mercola encourages readers to take advantage of a free Full Spectrum Special Report at http://store.mercola.com/light.
# # #