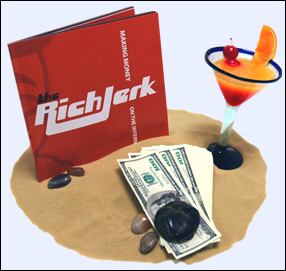 time these losers should have spent making money with the strategies laid out in my book. It's not rocket science.
Carlsbad, CA (PRWEB) January 17, 2006
A new, extremely controversial character has emerged on the internet, and he has advertising and business forums around the world in an uproar.
In August of 2005, the self proclaimed "Rich Jerk", who says he prefers to remain anonymous, launched his website http://www.TheRichJerk.com, and a new breed of in-your-face, insulting advertising was born. After all, it's not every day you see an advertisement that says "Screw you. I'm better than you are." Or how about an ad of a guy giving you the finger? And you don't dare send the Rich Jerk an email or the website explains "I guarantee you won't like the response."
If you are familiar with late night infomercial gurus who happily peddle their wares with over-the-top, friendly attitudes and horrible acting skills, all you have to do is envision the exact opposite of that, and you have the Rich Jerk.
The Rich Jerk, whose real identity is a mystery to most, has reportedly generated over $800,000 in sales of his e-book "I'm Better Than You", which obnoxiously details the methods he personally used to make several million dollars online over the past few years. And with his new, taunting approach to advertising, the Rich Jerk has attracted over 2 million visitors to his website in the last 4 months. In addition, thousands of internet bloggers have weighed their opinions, and the majority seems to enjoy the Rich Jerk's abuse. He's developed a cult-like following, including many people who have gone on record to say they've earned small fortunes thanks to the Rich Jerk. There are those who "can't wait to see what he'll say next", and others who say "The Rich Jerk says the things we all wish we could say. He's classic. He's rich. He's my hero." His blog has become a popular venue for naysayers to chime in as well. Some even go so far as to wish jailtime or even death upon him. This type of buzz just goes to show that his brash tone has struck a nerve with fans and antagonists alike. Regardless, there are now literally thousands of websites dedicated to discussing and reviewing the Rich Jerk and his wild approach to advertising.
In a unique phone interview, on condition of anonymity, the Rich Jerk revealed that today, like every day, he rolled out of bed at 10 AM, and clad in just silk boxers, he strolled to his computer to see how much money he made while he was sleeping. No surprise: Yet another several thousand dollars has been added to his bank account. "So many wannabe Rich Jerks out there", he says with a laugh. He then launches his email program, and begins typing obscenities to his "stupid" customers and potential customers alike, all of whom he says are "wasting my time"..."time these losers should have spent making money with the strategies laid out in my book. It's not rocket science."
As with any successful new advertising strategy, copycats are bound to come out of the woodwork. And that is true in the Rich Jerk's case as well. A slew of similar websites have popped up, such as the Rich Dummy, the Niche Jerk, the Deadbeat Jerk, the Casino Jerk, and so on....
And next up for the Rich Jerk? He has an infomercial wrapping up production, set to air nationwide in the U.S. in February. If his website is any indication, his translation to television should be "interesting" to say the least, and is sure to receive a lot of attention from the media, and likely the FTC. I can hear the "bleep" button wearing out now.
###