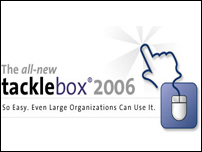 Tacklebox now stands out as a competitive solution for a Web CMS. This new enhancement takes Tacklebox to a whole new level in functionality and operability. We expect to gain many more Tacklebox clients because of this advancement
Ellicott City, MD (PRWEB) January 10, 2006 –
Brook Group reclaims the Web address with the introduction of human-readable URLs in the latest release of their Web content management system (CMS), Tacklebox.
With the advent of database-driven Web sites, URLs became unsightly and unintelligible. Earlier versions of Tacklebox, along with most CM systems, spawned URLs like: http://www.brookgroup.com/engine/content.do?PUBLIC_ID=31Z06&BT_CODE=BG34Y12&TT_CODE=SUBPAGE.
Now sites created with Tacklebox display clean, memorable URLs like: http://www.brookgroup.com/Services/Web-Site-Design.
As a CMS vendor priding itself as a world-class Web design and customer experience shop, Brook Group set a goal long ago to develop a CMS capable of human-readable URLs. With Tacklebox version 5.1, that dream became a reality.
"Tacklebox now stands out as a competitive solution for a Web CMS. This new enhancement takes Tacklebox to a whole new level in functionality and operability. We expect to gain many more Tacklebox clients because of this advancement," says Kara Brook, President of Brook Group.
Human-readable URLs provides a variety of benefits, including clarifying site navigation for visitors, creating URLs that are shorter and easier to remember, but most importantly, increasing visibility of a site to the search engines. Search engines assign higher page rankings to sites whose Web addresses echo the keywords and content of a page.
URL rewriting transforms machine-generated addresses into familiar, language-based Web addresses. The Tacklebox human-readable URL feature allows site managers to change the way a page's URL segment looks. In Tacklebox, when a page is added, the system assigns a URL based on its name. The address can then be edited at any time.
Whether called human-readable, user-centered, user-friendly, or spider-friendly, plain language URLs are a boon to site visitors and owners alike, a key feature for organizations looking at content management systems. Brook Group facilitates the return of sites that are more accessible, locally-organized and easy to use.
Read the full article about human-readable URLs.
Take a FREE test drive of Tacklebox.
About Tacklebox
Tacklebox is a Java-based Web content management system, providing full-feature CMS tools for clients as varied as the U.S. Department of Energy, House Of Ruth and Calvert School. Used for Web and intranet development, as well as RAD, an innovative prototyping tool, Tacklebox provides solutions for a multitude of content management needs. Features include distributed publishing, publishing workflows, content scheduling and a full audit trail.
About Brook Group
Brook Group, LTD is a strategic Customer Experience Design firm near Washington, DC, specializing in Web design, content management and application usability engineering. Brook Group provides information architecture and user experience solutions that help organizations streamline internal efficiencies and increase market share. Established in 1983, the firm has over 20 years experience innovating customized communications and Web "experienceware" solutions that help businesses, non-profits and federal clients reduce costs and increase productivity. Brook Group also provides best of breed branding, search engine optimization and Internet marketing.
Major clients include: America Online, Education Lending Group, VeriSign, The Executive Office of the President of the United States and the White House Office of Management and Budget.
# # #