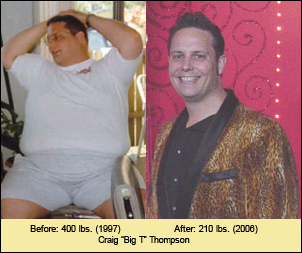 Dallas, TX (PRWEB) January 8, 2006 –-
More than 170,000 Americans had weight loss surgery in 2005—a tenfold increase from the early 1990s. As bariatric surgery becomes more and more common, thousands of people who resolved to lose weight in the New Year are considering procedures like gastric bypass surgery as the answer. Craig 'Big T' Thompson, the founder of RenewedReflections.com and himself a gastric bypass success story, is reaching out to this audience with a new podcast radio show that offers information and advice about the procedure.
Traffic to RenewedReflections.com quadrupled in the first week of 2006, says Thompson, as people considering gastric bypass surgery surfed the Internet for information. Most of the visitors to his site have not yet had the surgery, he notes, but are investigating different weight loss options for the New Year. Thompson lost close to 200 pounds after having Roux-en-Y gastric bypass surgery in 1997, and created RenewedReflections.com as a resource and support community for others considering the procedure.
The new podcast radio show will provide general information about weight loss surgery, such as the difference between the gastric bypass and lap band procedures, in plain language from one real person to another. As the show's host, Thompson will also offer advice based on his experiences for managing the daily physical and emotional struggles that come with weight loss surgery, present medical and insurance industry news updates, and answer listener emails. The podcast is available through Apple iTunes, other online podcast sources, as well as directly from RenewedReflections.com.
For Thompson, the physical change of gastric bypass surgery helped give him the courage to pursue his lifelong dream of becoming a big band singer. He has since built a successful career on three continents and even performed in London at Queen Elizabeth's Golden Jubilee. His Website, http://www.RenewedReflections.com, offers information and encouragement to other weight loss surgery patients, many of whom suffer from problems like depression and addiction transference after surgery.
Read reviews and hear song samples from Craig Thompson's band, Big-T and the Bada Bings, at CDbaby.com.
###