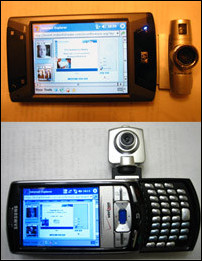 enables carrier-class services that integrate enterprise class business applications, voice, video and data to offer true interactivity and Web communications across multiple geographies and platforms.
New York, NY (PRWEB) January 10, 2006
With Streamphone 2.0 online video calls and conferencing service you can move about the world with one Streamphone wireless video call service. Streamphone is a universal seamless business communication tool. It works with Wifi, Wimax, EVDO, Bluetooth, landline internet connectivity. Contact Instantstream.com or ask your cell phone and internet provider to include Streamphone. Why wait for the future when Streamhone is here now! Our video rates are below the cost of a cell phone call and we include live video with up to 12 people, PowerPoint synchronized slides and audio at 2 cents a minute to any computing device in the world. ( you will have to contact us to trial)
Additionally, Instantstream, Inc. is pleased to announce it will now offer video conferencing services under the new Streamphone video phone call services to select corporate clients on Samsung I730 Pocket PC and soon on the Samsung M800 WIBRO WIMAX cell phone Pocket PC. All Pocket PC's / and many Smartphone are compatible with the Streamphone. please contact us (ceo@instantstream.com) or visit our website http://www.instantstream.com for additional details.
In the last 4 months Instantstream, Inc. has been testing Streamphone 2.0 over the Verizon™ EVDO network. We are pleased with the performance results as we have tested the new Streamphone will work over the Verizson Wireless Network in the exact way it now works on your PC, Mac, Linux and SUN (Unix) computer over your corporate computer network.
Thank you for your continued business. We look forward to providing you with this new offering.
This is some background information for your review:
Samsung unveils first mobile WiMax handset
Samsung is introducing what it calls the world's first mobile WiMax handset. At the Consumer Electronics Show this week, the Korean vendor is demonstrating WiBro, a Korean technology that is derived from the 802.16e spec that will form the basis of mobile WiMax, via the Samsung M800. An interesting development I'm sure for Sprint Nextel, which is testing a plethora of high-speed wireless technologies, including Samsung's WiBro, in its 2.5 GHz band of spectrum. For Samsung, which has failed to become a large CDMA infrastructure player outside Korea, offering a system and handsets before competitors could be a coup for the vendor. Of course, there is always a lag time for any technology to reach maturity. Korean operators are committed to launching WiBro in 2006, but they are known for taking risks by coming out of the gate early with technology.
http://search.yahoo.com/search?p=streamphone&sm=Yahoo%21+Search&fr=FP-tab-web-t&toggle=1&cop=&ei=UTF-8
http://search.yahoo.com/search?p=instantstream&prssweb=Search&ei=UTF-8&fr=FP-tab-web-t&fl=0&x=wrt
http://www.google.com/search?hl=en&q=streamphone&btnG=Google+Search
http://www.google.com/search?hl=en&lr=&q=instantstream&btnG=Search
Instantstream Multimedia Communications, Inc. was formed in 2004. The company offers its clients a universal web communications service that is accessible from any computer, any web browser and any communication device, from any location in the world. Using the company's primary product, Streamphone, users can hold individuals conversations, proactive team meetings, sales demonstrations and Regulation "FD" Fair Disclosure, Corporate Earnings and Remote Board Meetings, using audio, video and synchronized PowerPoint slides.
The product differs from similar stream technology in that it is powered by the company's trademarked Interactive Multimedia Local Exchange Carrier (IMLEC-TM). This technology allows Streamphone to be delivered to any computing hardware and any cell phone or PDA in the world without an investment in additional hardware. The technology thereby "enables carrier-class services that integrate enterprise class business applications, voice, video and data to offer true interactivity and Web communications across multiple geographies and platforms."
About Michael J. Daly
CEO of Instantstream.com, he started his career working for projects under Venrock group and has worked as a venture capitalist, entrepreneur and "C" level officer (CEO, COO, CFO, CTO) with both public and private corporate leadership roles and has 26 years of experience in high growth business development, capital formation and venture strategic planning. For about 15 years Mr. Daly has worked in the VOIP, Streaming Media, CRM, ERP, Biometrics, Wireless Telecommunication—for the financial services, entertainment and high technology industries.
Michael Daly has held CEO positions at Manrabbit housemultimedia.com http://www.manrabbithouse.com , CinemaStream and Executant Venture Capital Group. Additionally, Mr. Daly has held the COO, CFO and CTO positions at Mediaondemand.com http://www.mediaondemand.com/main.html , Milton H. Greene Studios, Inc http://www.archivesmhg.com , (others: US Interactive http://www.usinteractive.com , Digital, Compaq, Pioneer Entertainment http://www.pioneerelectronics.com , OAOT http://www.oaot.com ) and was an Adjunct Professor Venture Capital-Entrepreneurship - New Venture Creation at NY State University at Stony Brook, M.S. MBA for 18 years.
Detailed information on Instantstream, is available on the World Wide Web at http://www.instantstream.com.
http://www.instantstream.com
Editorial Contact:
Michael Daly
1-917-438-7182
###