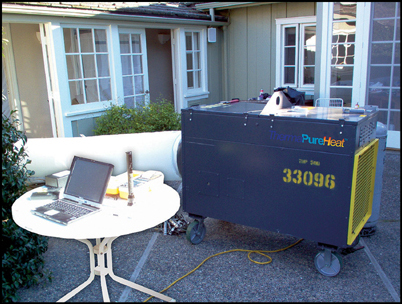 The room can be treated with everything in place and it will kill the bedbugs wherever they may be hiding -- bedding, mattresses, carpet, furniture, or even deep in cracks and crevices
Ventura, CA (PRWEB) January 10, 2006
Bloodsucking bedbugs are once again attacking hotel guests and homeowners worldwide, triggering costly remediation, litigation and damaged reputations even in upscale establishments.
Recently, two Swiss women sued a swanky Manhattan hotel, where according to their lawyer "they were eaten alive" with bedbug bites over their torsos, arms, legs, cheeks, and necks. A Las Vegas motel's bedbug infestation caused its closing for extermination while mattresses, curtains, and carpet were replaced. The National Pest Management Association reports a 500 percent increase in U.S. bedbug incidents in the last few years, and infestations have risen tenfold since 1996 in parts of London.
The blood-sucking insects are tough to eradicate using exterminators or pest control products. Hiding in mattresses, bedframes, headboards, sheets, luggage, clothing, carpet, cracks, crevices, furniture, even picture frames, bedbugs emerge at night and can quickly infest homes and hotels via travelers' items.
Though once controlled with broad-spectrum pesticides like the now banned DDT, the insects are tough to eliminate with today's targeted pesticides. Spraying toxic chemicals into every crack and crevice has raised concerns of exposure and odor, while traditional exterminators and pest control products are becoming ineffective as the bugs develop chemical resistance. Traditional treatments have required replacing mattresses, bedframes, and other expensive furnishings.
Fortunately, a revolutionary pest eradication treatment called ThermaPure is proving to be a fast, non-chemical, non-toxic cure to bedbug infestations without residue, odor, or the need for replacing costly furnishings. The process, developed by E-Therm, an environmental remediation innovator based in Ventura, Calif., uses superheated, dehumidified air to eliminate insect infestations as well as disinfect, decontaminate, and dry out buildings in much the same way heat is used to pasteurize milk and kill bacteria in wine.
"The ThermaPure process completely rids the room not only of bedbugs, but also of any other infestation, odors or moisture issues as well," says Scott Bershell, owner of CenCal, an exterminator specializing in non-toxic ThermaPure treatments.
In the ThermaPure process, superheated air is injected into the affected space, raising the temperature of a room or entire structure up to a sauna-like 160 degrees F for several hours. The heat effectively destroys the insects, which won't develop a resistance to it as they do to chemicals. The process has been used in thousands of termite projects in California. California's Structural Pest Control Board recognizes heat as one of two processes with efficacy in whole structure treatments.
"The room can be treated with everything in place and it will kill the bedbugs wherever they may be hiding -- bedding, mattresses, carpet, furniture, or even deep in cracks and crevices," says Bershell.
Because ThermaPure treating a structure generally takes less than eight hours, no multiple day move outs are required, which minimizes business disruption and secondary costs. It has been successfully used against insect infestations such as bedbugs and termites; mold and fungi; bacteria and viruses; and to improve indoor air quality by accelerating the off-gassing of odors and toxins.
by Bill Currie, Director of the International Pest Management Institute, and former US EPA training officer for the Office of Pesticide Programs
For More Information:
Dave Hedman
E-Therm, Inc.
180 Canada Larga Road
Ventura, Ca. 93001
Phone: 1-866-665-3432
Fax: 805-648-6999
Email: davehedman@yahoo.com
# # #