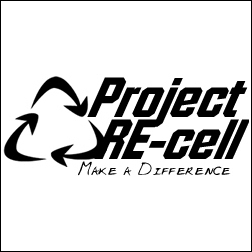 We are off to a good start and have a lot of groups we can help with the millions of cell phones being discarded every year
Boise, ID (PRWEB) January 11, 2006
Project RE-cell, a cell phone recycling company, had a good first year in business and raised more than $45,000 for area schools, churches and other nonprofit groups. This year the company plans to raise more than $250,000 for its fundraiser participants and the American Red Cross.
Cell phone recycling with Project RE-cell is easy. Customers can go to its web site, http://www.projectrecell.com, and select organizations they would like their used phones to benefit, or just send them directly to Project RE-cell to benefit the American Red Cross.
Project RE-cell also just started a profitable and environmentally responsible recycling solution for wireless dealers in which they buy the obsolete/scrap cell phones customers turn in at their stores.
"We are off to a good start and have a lot of groups we can help with the millions of cell phones being discarded every year," says Michael Green, co-founder of Project RE-cell.
About Project RE-cell:
Project RE-cell answers the most common question asked after someone buys their new cell phone, "What do I do with my old cell phone?" Its mission is to reduce the negative impacts of wireless waste disposal to the environment and to help local and national charities, schools and churches with fundraising opportunities.
Project RE-cell works with organizations in need of funds by organizing fundraisers. Project RE-cell currently works with 70 organizations to collect cell phones for cash, and the list is growing each week. The organizations collect cell phones which Project RE-cell buys, then refurbishes for re-use, or recycles the discarded handsets.
Project RE-cell pays for used cell phones and PDAs of all types, including broken or obsolete phones. Project RE-cell pays $1 to $300 for more than 700 cell phone models.
The company is able to carry out its mission with a team of fundraiser consultants that work with an organization every step of the way. From customizing fliers to constructing collection boxes, the consultants work hand-in-hand with the fundraiser participants to ensure that their fundraisers are a success.
To find out more about how used cell phones can benefit the American Red Cross or any other organization, visit http://www.projectrecell.com
Contact
Brent Seamons
Project RE-cell LLC
888-RECELL-5
# # #