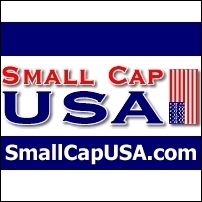 We have been hiring more staff just to keep up with the new members.
Las Vegas, NV (PRWEB) January 11, 2006 -
SmallCap USA announced today that it has launched a "first of its kind" investor social networking website where savvy investors may interact, network and compare research on their investments. Membership is Free to all investors.
"SmallCap Community is a rapidly growing community of investors looking to network, meet new people, exchange ideas, and make smarter investments!" says CEO, Chris Jackson. "With the DOW tapping the 11,000 level and the markets back in play, our timing could not be better."
SmallCap Community provides a unique platform for investors to meet, network and share information. The Online trading revolution changed the way investors researched and bought stock. SmallCap community is now changing the way investors interact. New and experienced investors alike can share information about their investments, as the professionals on Wall Street do.
SmallCapCommunity.com features: Company Sector Specific Forums, Chat Rooms, Instant Messaging, Personal web pages, blogs, groups, Bulletins, Quotes, Research and more. Investors can interact in real-time with each other throughout the day.
"The response has been overwhelming" says Jackson, "We have been hiring more staff just to keep up with the new members." Membership is growing over 300% a month.
Industry leaders such as E-Trade and Ameritrade were instrumental in their effort to challenge the old ways of doing business in the financial market. These companies provided investors with access to trading tools formerly reserved for stock brokers.
Since then the industry has flourished with regular people taking control of their financial destiny. SmallCapCommunity.com has created a financial community to act as a portal for investors to have additional tools to once again level the playing field. This platform will further empower investors and their portfolios.
Gone are the days when companies communicated directly with brokers. Today, thru the SmallCapCommunity.com, Public Companies and Investors can meet and share ideas through many different avenues including: Quotes, Charts, Company Profiles, Financials, Sector Specific News, Forums, Chat Rooms, Instant Messaging, Investor Learning Centers, Groups, Classifieds, Blogs, Events, Customized News Alerts, Research Reports, Desktop Quotes, Prizes and Giveaway's, and Video Interviews/Presentations.
SmallCapCommunity.com recognizes that there are over 30,000 Pubic Companies.
About SmallCapUSA.com
SmallCapUSA.com provides investors with access up-to-date information and to research new investment opportunities. Thanks to our unique approach we are actively creating new interest on a daily basis and have been growing our membership base exponentially since 2002.
SmallCap USA has daily updated coverage is displayed in a user friendly format to help convert investors into industry experts. By educating and informing investors, they have created an extensive and loyal investor base.
The Community is comprised of 10 industry specific websites that combine to form SmallCapCommunity.com. This community, known as SmallcapCommunity.com is revolutionary in providing investors and companies a place to meet and grow.
Site: 1 http://www.smallcapcommunity.com
Site: 2 http://www.smallcapusa.com
Site: 3 http://www.smallcapcanada.com
Site: 4 http://www.theoilhunter.com
Site: 5 http://www.theenergyhunter.com
Site: 6 http://www.thetechhunter.com
Site: 7 http://www.thebiotechhunter.com
Site: 8 http://www.thediamondhunter.com
Site: 9 http://www.thegoldhunter.com
Site: 10 http://www.thenanohunter.com
Release of Liability: The information contained herein is based on sources which we believe to be reliable but is not guaranteed by us as being accurate and does not purport to be a complete statement or summary of the available data. The owner, publisher, editor and their associates are not responsible for errors and omissions. SmallCap USA and its affiliates are not registered investment advisors or a broker dealer.
The information contained herein contains forward-looking information within the meaning of Section 27A of the Securities Act of 1993 and Section 21E of the Securities Exchange Act of 1934 including statements regarding expected continual growth of the company and the value of its securities. In accordance with the safe harbor provisions of the Private Securities Litigation Reform Act of 1995 it is hereby noted that statements contained herein that look forward in time which include everything other than historical information, involve risk and uncertainties that may affect the company's actual results of operation. Factors that could cause actual results to differ include the size and growth of the market for the company's products, the company's ability to fund its capital requirements in the near term and in the long term, pricing pressures, unforeseen and/or unexpected circumstances in happenings, pricing pressures, etc. Investing in securities is speculative and carries risk. Past performance does not guarantee future results.
###