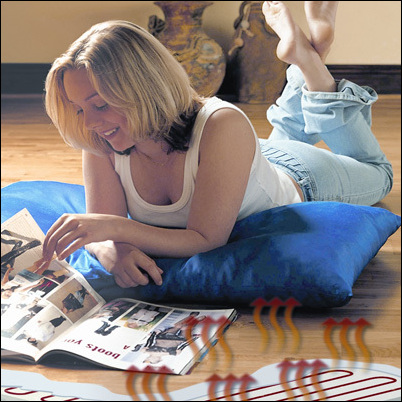 With the proliferation of today's more spacious homes, the simple concept of 'zone heating' is becoming popular to easily reduce heating costs
Atlanta (PRWEB) January 11, 2006
With natural gas prices anticipated to rise by 35 percent this winter, many Americans are looking for ways to reduce energy consumption by using alternative heat sources.
Rhonda and Mark Havlish of Northern Indiana read about a unique "under carpet" heating system in This Old House magazine and decided to give it a try.
"Our family room is located over an unheated crawl space, and it always felt colder than the rest of the house," Mrs. Havlish explains. "After reading about Speedheat's electric radiant floor heating system, we decided to have two panels installed. Last month, it was unusually cold, and we put the product to the test. It surpassed our expectations. And, with gas prices higher this year, we have kept our thermostat turned down. We are so pleased that we are planning on adding Speedheat in at least two other rooms."
Energy Conservation Key to Lowering Utility Bill Costs:
The Havlish's are not alone in trying to stay warm while turning back the thermostat. Higher energy prices are anticipated to hit most Americans in the wallet this winter. According to the Energy Information Administration's (EIA) Short-Term Energy Outlook released January 10, 2006, "on average, households heating primarily with natural gas likely will spend $257 (35 percent) more for fuel this winter than last winter." The EIA also projected the following potential increases as compared to last year's rates: heating oil — up 23 percent, propane — up 17 percent and electricity — up 10 percent. The EIA cautioned that if colder weather prevailed, utilities expenditures could be significantly higher.
If this trend continues, investments made in conserving energy should pay for themselves in the future through reducing utility bills.
Easily Conserve Energy and Save on Utility Bills with "Zone Heating":
"With the proliferation of today's more spacious homes, the simple concept of 'zone heating' is becoming popular to easily reduce heating costs," says Peter Newman, president of Speedheat US. "Zone heating simply involves heating the occupied rooms in your home while allowing unoccupied areas to remain cooler."
Mark and Rhonda Havlish are using the concept of zone heating to their advantage. They turn on the Speedheat® panels when they are using the family room and turn them off when not in use. They have also been able to turn down their thermostat and still stay warm. "We have always had to have extra blankets on our chairs for those chilly nights, and I have put them all away," Mrs. Havlish says. "It's amazing what a little warmth on the floor can do to keep the entire room comfortable."
According to the U.S. Department of Energy (DOE), "zone heating can produce energy savings of more than 20 percent compared to heating both occupied and unoccupied areas of your house."
Tips for Cutting Energy Use Up to 40 Percent:
For those who want to save even more energy, the Radiant Heating and Cooling Handbook calculates that for every 10 degrees the thermostat is lowered, energy consumption is reduced by approximately 40 percent. While saving this amount of energy is certainly desirable, staying comfortable is also important. With Speedheat, users can enjoy the best of both worlds.
Speedheat warms from the ground up and produces evenly heated rooms that are more comfortable at lower temperatures. So, when Speedheat is installed throughout a home, users can easily reduce the thermostat by 10 degrees or more and still remain comfortable.
"Until you have 'experienced' electric radiant floor heating, it is difficult to fully comprehend," says Mr. Pieter Jansens, chairman of Speedheat International. "Because the radiant heat warms 'you' and not the air, you actually 'feel' warmer at lower thermostat settings. While the temperature around you is lower, your 'comfort level' is actually higher."
In addition to the "under carpet" warming system selected by the Havlish's, Speedheat also offers electric radiant floor heating panels that can be used under virtually any floor covering. Speedheat's installed heating panels also feature fully programmable thermostats.
RugBuddy Offers "Zone Heating" with Plug-n-Warm Simplicity:
Another unique "zone heating" option is RugBuddy™ — the only UL-listed heating mat in the world, approved for use under area rugs. Like an electric blanket for the floor, RugBuddy turns regular area rugs into invisible space heaters. It is an ideal solution when installing electric radiant floor heating is not an option and is a safe, energy efficient alternative to a traditional space heater.
More About Speedheat:
Speedheat is the only electric radiant floor heating company in the world with products designed to safely and efficiently warm directly under virtually any flooring material including: exotic stone, marble, granite, tile, floating wood, laminate, vinyl, carpeting and area rugs.
As the inventors of electric radiant floor heating, Speedheat has produced quality heating solutions since 1985 and currently heats more than 30 million square feet of space Internationally. Speedheat has offices in Australia, Belgium, France, Germany, Italy, Netherlands, South Africa, Spain and the United Kingdom. Their United States headquarters are based in Woodstock, Georgia.
While relatively new to the United States, Speedheat has started to attract media attention. This Old House magazine featured Speedheat in their "20 of the Year's Coolest Tools, Gizmos and Gadgets" list for 2004. Speedheat also received coverage in Points North magazine, Atlanta Home Improvement magazine, was profiled on HGTV's International Builder's Show 2004 program, featured on FloorRadio and FloorDaily.net and has appeared once on the Ask Andrea nationally syndicated home improvement radio show and has been asked to reappear soon.
For more information, please call 1-888-WARM FLOOR or visit http://www.speedheat.us.
Improving Energy Efficiency and Energy Saving Tips:
American Council for an Energy-Efficient Economy http://www.aceee.org
US Department of Energy http://www.eere.energy.gov/consumer
Sources:
Energy Information Administration, Short-Term Energy Outlook, January 10, 2006
US Department of Energy, Energy Efficiency and Renewable Energy Web Site
Radiant Heating and Cooling Handbook, Richard D. Watson and Kirby S. Chapman, 2002
# # #