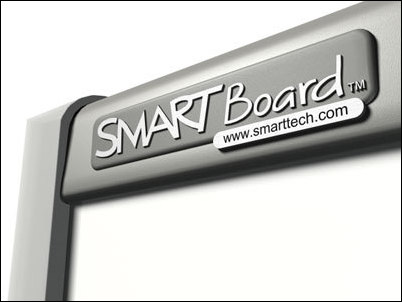 SMART is committed to the Mac platform and to our Mac user base
CALGARY, Alberta (PRWEB) January 11, 2006
SMART Technologies Inc. announced at Macworld Conference and Expo in San Francisco the launch of SMART Board™ software 9.5 for the Mac OS X operating system. Version 9.5 introduces new features to help educators create, organize and implement interactive lessons using the SMART Board interactive whiteboard. New features include a Gallery keyword search, audio and video support, and more curriculum-based content.
The new Gallery keyword search helps teachers quickly find content. Virtually all types of content, including images, audio, video, Macromedia® Flash® and Notebook™ files, can be organized and stored in the Gallery. The Gallery has expanded to include My Content, which is a personal workspace; SMART Gallery content, which can be shared on a school network; and an online resource section, allowing teachers to make the most of Internet resources, either their own or SMART's. Version 9.5 is a free upgrade for SMART Board interactive whiteboard customers.
SMART Board software 9.5 also features thousands of objects in the Gallery, including over 500 new images, backgrounds, audio, video and Flash files. It also contains digital content from content providers, including Intel® Skoool™, Espresso Education and Daydream Education.
"The improvements in SMART Board software make it even more classroom friendly because I can now move toolbars, use mathematical symbols, immediately access the Gallery and easily make changes on the fly in front of students," says Barbara Post, a math teacher at Santiago High School, Garden Grove, CA. "I have been using my SMART Board with my Mac computer for over a year and a half and don't think I could teach with out it."
"SMART is committed to the Mac platform and to our Mac user base," says Nancy Knowlton, SMART's president and co-CEO. "SMART Board software 9.5 represents a significant upgrade that adds and enhances features teachers have asked for."
New Features
Notebook software
Gallery search: Teachers can save time and increase productivity by easily finding content using the keyword search or browsing through the content file structure.
Online resources: Teachers can easily access SMART-hosted lesson activities, curriculum standards and online classroom resources, or any online content through the Gallery.
Video and audio support: Teachers can integrate video and audio files seamlessly into Notebook software lesson activities. Like other objects in Notebook software, videos can be resized, rotated, written over and stored in the Gallery. Audio files can be attached to objects or can be objects themselves.
Linking: Teachers can create easy-to-use, nonlinear lessons by linking objects to pages in a Notebook file, a URL, an attached document or any document on the hard drive.
Locking: Objects can be locked in three ways. They can be locked in place, locked so they can be moved but not edited, or locked so they can be rotated and moved, but not edited.
Customizable toolbar: Icons can be added to or removed from the Notebook software toolbar.
Improved text support: Subscript, superscript and scientific symbols are now supported in Notebook software. Text can also be added to shapes.
Mirror objects: Objects can be flipped horizontally and vertically.
Gallery learning objects: The Gallery includes thousands of objects, including over 500 new images, audio, video, Flash and Notebook software lesson activities.
SMART Board Tools
Freehand Screen Capture: Teachers can outline and capture any shape or part of the screen with the Screen Capture tool.
Improved Screen Shade: Information can be concealed and revealed point by point by dragging the Screen Shade – up or down, left or right – directly over the Notebook page, desktop or any application. The Screen Shade can also be set on each Notebook page.
Improved Spotlight tool: Teachers can now modify the Spotlight to virtually any shape.
Take-Home Privileges
Version 9.5 continues to provide take-home privileges, giving all teachers and students access to the SMART Board software features necessary to work on SMART Board software files outside the classroom.
Availability and Pricing
SMART Board software 9.5 for the Mac OS X operating system will be available in March 2006. SMART customers will be able to obtain a free download at http://www.smarttech.com/support/software. SMART Board software 9.5 will be included with all new orders of SMART Board interactive whiteboards and Sympodium® interactive pen displays.
About SMART
SMART Technologies Inc. is both the industry pioneer and global market leader in easy-to-use interactive whiteboards and other group collaboration tools. The award-winning SMART Board interactive whiteboard is the most widely installed product of its kind in the world. Many school jurisdictions have standardized on SMART Board interactive whiteboards, which provide interactive learning opportunities and enhance student achievement in more than 250,000 classrooms spanning every Local Authority in the UK, every U.S. state and more than 75 countries. More than 7.35 million students worldwide are actively learning with SMART Board interactive whiteboards in the classroom.
SMART's education customers include New York City Board of Education (U.S.), Oxford University (UK), Tokyo Nampei Senior High School (Japan), Barnier Public School (Australia), University of Ottawa (Canada), United World College (Singapore), Stephen-Hawking-Schule Neckargemuend (Germany), Florida School for the Deaf and the Blind (U.S.) and Harvard University (U.S.).
SMART is a private company founded in 1987. Employing more than 700 people, SMART is headquartered in Calgary, Alberta, Canada, with assembly facilities in Ottawa and Calgary, and offices in Bonn, Tokyo, New York City and Washington DC. SMART has been issued and maintains a broad portfolio of patents with numerous other U.S., Canadian and foreign patents pending. In 1992, SMART formed a strategic alliance with Intel Corporation that resulted in joint product development and marketing efforts, and Intel's equity ownership in SMART. SMART products are sold through dealers across North America and distributors worldwide. For more information, visit http://www.smarttech.com.
For more information, contact
Tina Garstad, Public Relations Specialist
SMART Technologies Inc.
1207 – 11 Avenue SW, Suite 300
Calgary, AB T3C 0M5 CANADA
Phone +1.403.802.2556 Fax +1.403.228.2500
Visit SMART at Macworld Expo 2006 at booth #1943.
Please note that SMART is written in all capital letters.
PRWeb is the unofficial press release wire service for Macworld Conference & Expo, San Francisco. Wednesday, Jan. 11, 2006, is Macworld day at PRWeb. Visit PRWeb at both #649.
###