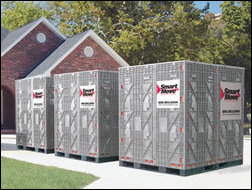 Unlike old, traditional moving methods, Smart Move can deliver customers household goods across the country in less than a week, guaranteed, regardless of the size of the shippers move
Denver, CO (PRWEB) January 13, 2006
A Smart Move L.L.C. (http://www.gosmartmove.com), a moving and storage company has added key, strategic metropolitan areas. Smart Move's coverage and reach will now include most of the major population areas in the continental United States. The new cities include, Nashville, TN, Columbus, OH, Cleveland, OH, Cincinnati, OH, Pittsburgh, PA, Indianapolis, IN, Salt Lake City UT, Tucson AZ, Jacksonville FL, Richmond, VA, and the entire state of Connecticut.
Smart Move customers now enjoy service to the 40 largest greater metro areas in the country, including NYC, Boston, LA, Chicago, and DFW. Logistics are provided by Smart Move's freight partner Overnite Transportation, a UPS company. "Unlike old, traditional moving methods, Smart Move can deliver customers household goods across the country in less than a week, guaranteed, regardless of the size of the shippers move", said Chris Sapyta, president of Smart Move. We are very excited with the acceptance of our solution and customers' demands for a new way of moving, this will drive us to expand our service geography to the top 100 metro areas in the USA by the end of 2006".
Smart Move delivers goods in containers called Smart Vaults™. Smart Move containers are state-of-the-art designed HDPE (High Density Polyethylene) containers, called the Smart Vault™. Each vault can hold up to 2500 lbs. or 262 cubic feet of loading space, an average 2300 sq foot home can be moved in 5 Smart Vaults. Each vault is equipped with a smart GPS unit, which allows Smart Move to track the container precisely, anywhere in the world. Once the Smart Vault™ containers are loaded, the customer places "their lock" on the container. When Smart Move picks up the full container, a security seal is also placed on the container. The move is tracked with both barcode and GPS tracking technology. The customers' goods are safe, never lost, and delivered with their lock and our security seal in place, every time.
•GPS secure, locked containers
•Ground level loading
•Ultra strong, weather-resistant containers
•Truck rental alternative
•Full Service and Self Service moves
•Time flexibility, the mover can take their time loading and unloading
•Low-cost Storage if needed
•Accurate fixed quotes, the quote received is the price paid
•Lower Cost
For more information, go to (http://www.gosmartmove.com).
A Smart Move L.L.C.
5350 S. Roslyn St. Suite 380
Greenwood, Village, CO 80111
Contact Information:
Steve Fay, Marketing Manager
800-963-0204 Ext. 9561
###