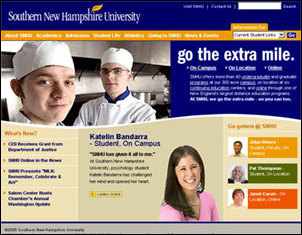 Hooksett, NH (PRWEB) January 26, 2006
Search engine marketing company @Web Site Publicity announced today the signing of a new client, Southern New Hampshire University. The search firm will assist the University in the recruitment of students and reinforce its brand online through a comprehensive Search Engine Marketing campaign. By achieving top rankings in the major search engines, such as Google and Yahoo, information about SNHU's undergraduate, graduate, certificate, and online degree programs will be readily accessible to students exploring their educational options.
Southern New Hampshire University is a private, coeducational institution known for its solid educational programs and excellent connections with employers. SNHU attracts about 1,900 students from more than 23 states and 35 different countries. 80% of undergraduate students live on campus in Manchester, the largest city in New Hampshire, which according to a list put out annually by Morgan Quitno Press is "the most livable state" in the country. Addtionally the University serves 1,800 graduate and 2,700 continuing education students.
One of New England's online-learning leaders, which allows students and faculty to connect across the world, SNHU offersmore than 30 accredited online degree and certificate programs at the undergraduate and graduate levels. Fifty percent of all Southern New Hampshire University students complete at least one cooperative education work experience in the U.S. or abroad before they graduate; 70 percent of them are offered positions by their cooperative education employer.
@Web Site Publicity is a leading search engine marketing company providing comprehensive, integrated services in the area of search engine optimization, paid search advertising and Internet public relations. Founded in 1998, it serves client companies throughout the United States. Based in Peterborough, NH, the company also works directly with interactive agencies, public relations agencies, and web development firms to increase their clients' success online. Company founder and C.E.O. Susan O'Neil is the co-author of Maximize Web Site Traffic and a frequent presenter on the topic of Internet Marketing.
For more information on Southern New Hampshire University, call 603.668.2211 or visit http://www.snhu.edu.
For more information on @Web Site Publicity, call 800-450-2818 or visit http://www.websitepublicity.com.
###