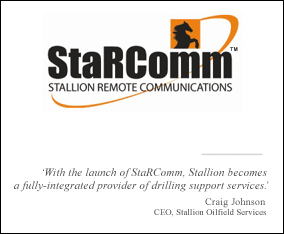 Houston, TX (PRWEB) January 14, 2006
In December 2005, Stallion Oilfield Services launched Stallion Remote Communications™. StaRComm provides integrated VSAT services with telephone, fax, and internet, along with integrated wireless intercoms. StaRComm services are currently being offered in selected Stallion locations. The Company plans to deploy over 100 integrated VSAT units in 2006.
Craig Johnson, Stallion's CEO, commented, "With the launch of StaRComm, Stallion becomes a fully-integrated provider of drilling support services. We can provide housing accommodations, surface rental equipment, solids control services and the entire communications infrastructure – intercoms, phone, fax, and internet access complete with a laptop computer, if requested. The customer can just show up and begin working at the new site. This one-stop shop approach provides value to our customers through greater productivity at the drill site."
The Company now provides services in the Gulf Coast, South Texas, ArkLaTex, Ft. Worth Basin, Permian Basin, Anadarko Basin of Western Oklahoma, Arkoma Basin, Rocky Mountains, and Williston Basin. With over 375 employees in 19 locations and over 1,300 land-based rig housing units, an extensive fleet of surface rental equipment, significant solids control capability, and integrated satellite communications services, Stallion is the leading drilling support service provider in the United States.
To accommodate continued growth, Stallion also recently relocated its corporate office to 410 Roberts. Just east of downtown Houston and about a mile from Minute-Maid Park, the newly renovated warehouse provides 20,000 square feet of custom-built office space where 40 employees provide corporate sales, finance & accounting, human resources, benefits administration, payroll, and operations support services.
To find additional information on Stallion Oilfield Services or Stallion Remote Communications visit the Company's newly updated web site, http://www.stallionoilfield.com.
# # #