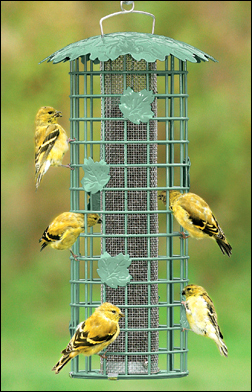 We've been able to add these finishing touches to the design without taking away from the functionality
Concord, NH (PRWEB) January 17, 2006
Duncraft, a leading manufacturer and retailer of birdfeeders, has launched a new squirrel-proof birdfeeder with a softer side. Its latest offering for backyard bird lovers, the Sonata Sunflower Feeder (No. 2394) is a squirrel-proof feeder that combines the tried-and-true performance of their best-selling Squirrel-Blocker Selective Feeder™ but goes beyond the utilitarian to the artistic. The Sonata offers an elegant sage green leaf motif with a styling that complements any garden or landscape décor.
"Our customers really want to keep the squirrels out of the bird seed, and this product does that exceptionally well," said Sharon Dunn, president of Duncraft. However, she explained that the new model birdfeeder is softer in color and richer in styling, with decorative leaves on the grid and an embossed leaf design on the roof. "We've been able to add these finishing touches to the design without taking away from the functionality," Dunn added. "Birds can feed from anywhere on the wire caging and the stainless steel mesh seed tube is a breeze to clean."
Duncraft is a 54-year-old manufacturer of birdfeeders and related products. Feeders, gifts for bird lovers, free advice on bird feeding and an online bird guide are offered on its website at http://www.duncraft.com, and its store in Concord, NH. For more information, visit the site or call Duncraft's innovative Backyard Birdfeeding Help Line at 1-888-879-5095 (9am to 5pm EST.
###