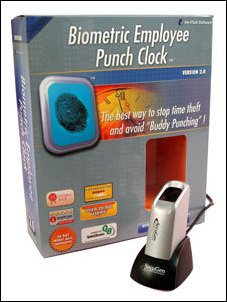 Irving, TX (PRWEB) January 17, 2006 –-
Fingerprint, Bar-code, PIN support, Network compatibility and more detailed Reports, make Biometric Employee Punch Clock™ 2.0 a very powerful tool for accurate Time and Attendance Control.
Biometric Employee Punch Clock™ is an affordable solution for small, mid-size and large companies. The use of fingerprints to identify each employee prevents time theft and avoids "buddy-punching," a factor that by itself could cost the company up to 10% of its total annual payroll. The associated expense of printing badges and auditing paper-based timesheets is also eliminated. Additionally, the solution saves time by reducing the necessity of modifying passwords or PINS when the employees forget them and provides Door Access Control, improving the security on each facility.
New and more detailed reports can be exported to several formats and will provide exact information about each employee. This new version also works with Quickbooks® Pro 2003-2006, turning the payroll process into a very simple one.
Biometric Employee Punch Clock 2.0 also supports Microsoft® SQL Server 2000 Database, Interbase® Database, MySQL® Database and Oracle® Database, letting each company or HR Department manipulate their information as needed.
The complete solution that includes de Software and the Hardware (a powerful fingerprint scanner that can be connected to the USB port of any Windows®-based computer) starts at $ 399 USD.
For additional information please visit http://www.veritasksoftware.com or contact the company directly. A downloadable 30-day demo of the software is available as well in the download section of the site.
About VeriTask Software
VeriTask Software is devoted to the creation of smart software solutions for everyday business management tasks. Since its inception in 2004, VeriTask has produced tools to make businesses work more efficiently.
Contact Information
Diego Bañuelos
VeriTask, LLC
1300 Walnut Hill Ln. Suite 220
Irving, TX 75038
USA
Office Hours: 8:00 am to 5:00 pm CST
Telephone: (214) 206-8913
Toll Free: (888) 661-6828
http://www.veritasksoftware.com/
###