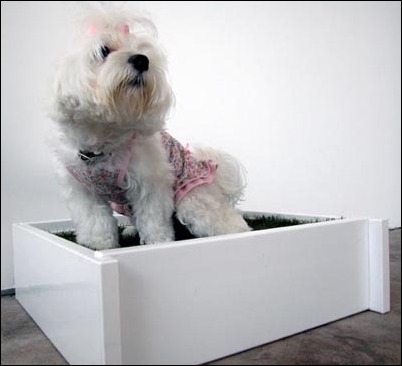 Los Angeles, CA (PRWEB) January 15, 2006
PETaPOTTY once again brings relief to pet owners by introducing its cleaning and replacement service to the San Diego area. After 3 years of success in the Los Angeles area, and a huge amount of requests from the happy PETaPOTTY owners in San Diego we have finally made our way down south. PETaPOTTY has also added a new member to the team, Andy Roth will be working in marketing and sales as well as overseeing the set up of the San Diego program.
PETaPOTTY is the only self-draining lawn toilet system available to animals and their owners. It has been touted as a must have new product on national television spots such as; The View with Barbara Walters, Queer Eye for the Straight Guy, Animal Planet, The Sharon Osbourne Show and many others. PETaPOTTY has also received acclaim by way of print coverage in such publications as USA Today, Time, The Herald Tribune, and many more. The PETaPOTTY cleaning and replacement service will be a weekly service that would include a visit from a PETaPOTTY technician who will clean and sanitize the unit and replace and dispose of the dirty sod, leaving you and your dog with a feeling of instant grassification.
PETaPOTTY, known for its superb customer service and friendly attitude, is happy to offer any customer support necessary to insure optimum results from the unit and the service. In an effort to keep the level of customer service high, Andy Roth who has recently joined the PETaPOTTY team to handle marketing and sales, will be spearheading the development of the San Diego service program. Andy Roth comes to PETaPOTTY by way of the action sports industry having been a pro snowboarder with PETaPOTTY founder Brandon Hochman, then moving on to start his own action sports apparel line( ZZYZX). Andy Roths strengths are marketing and sales, however he has a well rounded base of knowledge in all aspects of business which will make him a strong addition to the PETaPOTTY team.
We are proud to say all products sold are manufactured in the United States of America. We pick up our sod from a local sod farm and it is always shipped out the same day for guaranteed freshness. The Original, Petite, and Mini PETaPOTTY are environmentally friendly and APPMA and Animal Wellnes approved. We know you will love this product and have many canines in action to prove it.
Available at:
http://www.PETaPOTTY.com
1026 S. Santa Fe Ave. Suite 103 Los Angeles Ca 90021 866-PET-PAWS or 213-891-1721
###