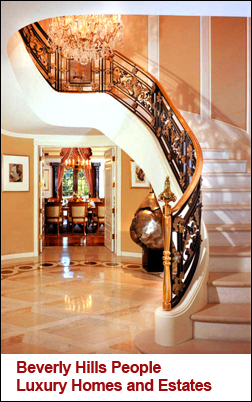 BeverlyHillsPeople strives to provide an alternative site for real estate agents representing luxury homes. We focus on providing better and longer exposure for real estate agents
Beverly Hills, CA (PRWEB) January 17, 2006
BeverlyHillsPeople.com a new lifestyle Web portal, annouces its Luxury Homes & Estates section. Now luxury home real estate agents have a new marketing tool that will be Free for six months. Beverly Hills People has made this marketing tools so cost effective you can't say no. After the free six month introduction period, agents can continue to market unlimited properties at only $24.00 per week. Real estate professionals can upload their listings and color photos in an elegant presentation to the Luxury and Estates Pages.This website offers real estate professionals world-wide exposure and highly-targeted access to the tens of thousands of luxury home buyers who search online each month.
Agents and brokers can go to the, luxury homes signup page, and sign up for a free membership to the Beverly Hills People Luxury Homes and Estates. After signing in, real estate professionals can upload their listings and color photos in an elegant presentation to the Luxury and Estates Pages. Agents from Coldwell Banker, Sotheby's, Nourmand & Associates, Prudential California, Hilton & Hyland and Keller Williams, to name a few, will benefit from this new advertising channel.
"BeverlyHillsPeople strives to provide an alternative site for real estate agents representing luxury homes. We focus on providing better and longer exposure for real estate agents," said Martin Halfon, owner of Beverly Hills People. "Our format and presentation will also give home buyers a better feel and understanding of the property they are viewing."
"2006 projections are showing an increase in inventory that will spend a longer time on the market. This fact coupled with interest rate uncertainty will mean that agents will need better ways to promote and advertise their listings."
"We feel we can help agents advertise in a cost-effective manner, now that 70 percent of home buyers begin their real estate search on the internet, and 30 percent of total buyers end up purchasing a property they first saw on the Web."
BeverlyHillsPeople has launched its Website with a specific mission of providing relevant information regarding real estate, travel, dining, shopping,sports and entertainment to the residents of Beverly Hills surrounding communities and the world. Additionally, BeverlyHillsPeople.com serves as an online resource for the millions of travelers who visit the area each year.
Beverly Hills People.com will seek to provide valuable information regarding, News, Fashion, Exclusive Homes and Estates, Autos, Rodeo Drive, Hotels, Entertainment, Restaurants, Sports, and more.
# # #