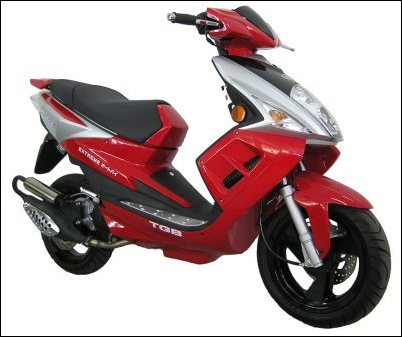 We also pay the labor charges to make the repairs covered under the warranty so that our customers won't have to pay for covered repairs.
Kennesaw, GA (PRWEB) January 16, 2006
Cobra Powersports, the US Distributor for TGB scooters, motorcycles and ATVs (all-terrain vehicles), has announced that it has lengthened all 2006 49cc and 151cc scooters to an industry leading 2-year warranty, unlimited miles. Cobra Powersports increased coverage after reviewing 2004-2005 warranty claims and finding that the TGB scooters have an extremely low warranty claim rate of less than 0.3%.
The new warranty policy doubles the coverage of TGB scooters and increased the parts that are covered. Bill Peirce, President of Cobra Powersports, said, "We knew that the TGB scooters were great products, but after our technical manager totaled up the warranty claims that we paid out over the past 2 years I had to smile. Our failure rate was so low that I knew we had a great opportunity to show our customers and dealers that we believe in the TGB scooters so much that we are going to double the warranty."
"Our warranty has real meat behind it because we cover defective parts for 2 full years. Unlike many warranties that exclude certain parts, don't pay labor, or drop coverage as the scooters age; we cover the whole scooter, except wearable items such as tires and air filters." Mr. Peirce adds, "We also pay the labor charges to make the repairs covered under the warranty so that our customers won't have to pay for covered repairs." Consumers should visit the Cobra Powersports website or visit an Authorized TGB Dealer to get more information about the TGB warranty and coverage details.
The TGB 2-year limited warranty covers the complete 2006 Cobra-TGB scooter line, including the TGB Key West, TGB Laser R5, Laser R9 and TGB R50X Extreme. The Key West, Laser R5 and R50X Extreme scooters include the high-performance TGB 2-stroke 49cc engine which is 2006 EPA certified. TGB is one of the only companies to be able to pass the new EPA laws for testing and certifying onroad motorcycles with a 2-stroke engine. 2-stroke engines offer higher performance and less maintenance than a typical 4-stroke engine.
TGB continues to offer the Laser R9 151cc scooter in the USA and with the increased warranty this scooter is positioned to be the perfect commuter vehicle. With proven reliability and performance, the TGB Laser R9 offers over 75 MPG and a top speed of over 60 MPH.
About TGB
Taiwan Golden Bee is a leading manufacturer of scooters, ATVs and OEM parts, whose customers include Piaggio, Suzuki, and Peugeot. Since its inception in Taiwan in 1978, TGB has evolved into one of the largest CVT (Continuously Variable Transmission) manufacturers with over 60% market share in Europe.
About Cobra Powersports
Cobra Powersports is the exclusive distributor for TGB products in the United States and Caribbean Islands. A leading distributor of scooters, ATVs (all terrain vehicles), and motorcycles. Several hundred powersports dealers rely on Cobra Powersports to provide quality transportation products.
CONTACT INFORMATION:
Bill Peirce
Phone: 770-423-2827
Fax: 770-974-1522
# # #