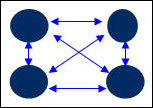 at what age can I safely retire?
Coventry, Connecticut (PRWEB) January 17, 2006
FinancialMedic's retirement planning site, Retireport.com (RP), allows clients to produce and control their retirement analysis. RP enables pre-retirees to find their unique balance of savings, income and investments to meet their retirement goals. An estimated 10,000 Americans will turn 59½ every day in 2006. A recent GE Finance Survey found that 40%-60% pre-retirees have no retirement plan. RP helps address this need by providing an easy to use, secure, private, and comprehensive analytical tool.
RP asks the client to input her/his income and expenses, savings, investments, pensions including projected social security, life insurance, real estate, assets and liabilities. The service provides an integrated analysis across these different financial domains, calculating the probability that the client can retire in her/his target year and sustain their financial resources to mortality. The output report provides a summary analysis and suggested actions. The client may try other scenarios until a desired solution is found.
Pre-retirees must consider risk and volatility as pensions are under growing attack, qualified retirement accounts are restrictive, job security less certain with long-term health care issues looming as dark clouds above any retirement scenario. RP uses advanced mathematical principles and techniques, such as Monte Carlo simulation, to consider risk and volatility across the many domains of retirement planning.
RP's service (http://www.financialmedic.com) is complemented by case studies and a FAQ. Topical research of current retirement issues enhances the client's ability to plan. Initial pricing is $9.95 for a 15 day trial subscription and $49.95 for an annual subscription.
About FinancialMedic, LLC
The three founders initially created the service to assess their own readiness-to-retire. Finding institutional retirement services lacking, the founders applied their own research, financial, and quantitative skills to develop an approach to answer the question "at what age can I safely retire?" Visit http://www.financialmedic.com/.
Contact Sam Cuscovitch at 860-730-6352.
# # #