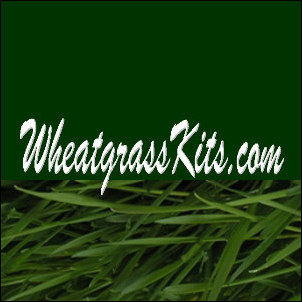 I feel a sense of accomplishment and excitement being an entrepreneur and business owner but more importantly I feel like I'm making a difference in my customers' health and lifestyle
Springville, UT (PRWEB) January 18, 2006
Wheatgrasskits.com, a Utah Internet business selling kits to grow wheatgrass, barleygrass, sprouts and herbs, celebrates five years of online success and almost 1 million dollars in sales this past year. At the age of eighteen and as a starving college student, Kaitlin Moller recognized the market for wheatgrass growing supplies and juicers and launched her first online business with no experience except for a passion for growing and juicing wheat grass. Kaitlin started by offering about half a dozen products, including a few wheatgrass kits, juicers and some extra growing supplies. Her business has now expanded to well over one hundred products and nine employees.
Kaitlin promotes her Web sites online using several key Internet Marketing strategies she learned from Stores Online, her Orem, Utah-based hosting company. Kaitlin markets her sites using affiliate programs, link building, live directories, permission marketing, pay-per-click campaigns and search engine optimization and several additional strategies. "We have great products, and support that are improving peoples' health and lifestyle. The important thing to me was making sure that people could find our Web site," said Kaitlin. "I spend about half my work week promoting online, and the rest of my time running the business."
Now, five years later, Moller owns three successful Web sites: wheatgrasskits.com, herbkits.com and soykits.com drawing in over 50,000 unique visitors each month. Kaitlin has also expanded her business to Amazon.com and eBay where she is a PowerSeller. The company has over 20,000 customers and continues to grow. All three Web sites offer high-quality products and kits that teach people how to grow wheatgrass, barley, herb gardens, sprouts and edible mushrooms at home. Moller's online business sets her apart from her competitors because of the incredible support that her company offers via phone and email in helping customers with growing, juicing and making fresh soymilk.
"I feel a sense of accomplishment and excitement being an entrepreneur and business owner but more importantly I feel like I'm making a difference in my customers' health and lifestyle," said Moller. "I frequently receive feedback from customers and it's exciting to see how our products are providing people with more energy and a better sense of well-being. Kaitlin's business has grown at an impressive 30% each year, and she plans to continue that growth by continuing to aggressively market her products online, and to expand with additional products and Web sites. "We should do well over one and a quarter million dollars in sales in 2006," Moller stated.
About Wheatgrasskits.com
Wheatgrasskits.com is the nation's leading provider of kits, juicers, and supplies to grow wheatgrass, barley grass, herbs and sprouts from home, providing customers with nature's most perfect living foods. The Web site offers a complete source of knowledge and information on the subject of wheatgrass, herbs, and soy and serves over 20,000 customers around the nation. Founded by Kaitlin Moller in 2000, Wheatgrasskits.com is located in Springville, UT and has nine employees. For more information on the company, please visit http://www.wheatgrasskits.com, http://www.herbkits.com, and http://www.soykits.com
# # #