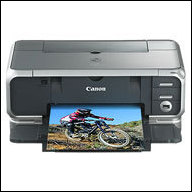 Los Angeles, CA (PRWEB) January 18, 2006
Americans with disposable income and an interest in digital photography are creating more and more images. The result? Photo printers are topping the list of essential digital camera accessories.
The number of images captured and shared is predicted to grow by 24% by 2009, boosting the worldwide growth of total photo print volume. The US market for photo finishing and merchandise more than quadrupled between 2002 and 2005 according to InfoTrends, a market research firm specializing in digital imaging. Americans are expected to spend $2 billion this year, just for paper and ink to print their digital photos at home.
"Digital cameras have created the need for a whole new category of photo management," says Michelle Ryther, Internet Marketing manager for Samy's Camera, a leading resource for photographers on the Web. "The manufacturers are aware of this trend and offer rebates if you buy a camera and a printer together. Retailers are catering to this need with printers, paper and ink."
The Epson Stylus Photo R340 restores faded photos, slides and negatives, delivers beautiful enlargements, copies, prints and scans PC-free and prints on CDs/DVDs. This printer has a premium photo viewer to easily select and crop photos and allow direct printing from popular memory cards or PictBridge-enabled digital cameras.
"Canon is on the leading edge technologically," says Ryther. "Their PIXMA iP5000 is a powerhouse printer that combines next-generation print head technology with advanced 5-color printing, for fast, high-definition photos." Canon Full-photolithography Inkjet Nozzle Engineering (FINE) uses a high-performance 1,856-nozzle print head that ejects precise, consistent droplets of ink and prints an amazing resolution of up to 9600 x 2400 color dpi, for detail and clarity unmatched by comparable printers.
Photographs printed on color printers may not be quite the same as prints made with traditional photography, but they have a look and feel all their own. When choosing a printer the best way is to read reviews and compare different models. Samy's Camera is a resource for finding information about all the digital camera accessories you need, including photo printers.
# # #