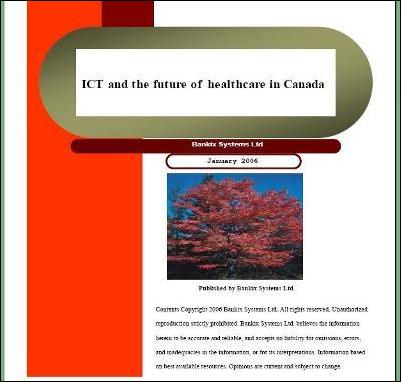 Saskatoon, Canada (PRWEB) January 18, 2006
Bankix Systems Ltd has released its new 271-page technical report, ICT and the future of healthcare in Canada. This technical report examines the role that ICT would play in the future of health systems in Canada. It analyzes in-depth, the status and future of the Canadian health industry in relation to the healthcare ICT market. It explores investments and market opportunities in the health ICT industry, and discusses the interplay of factors shaping the future of the health industry in Canada, including the role that ICT would play in the sustainability and future direction of the country's health systems.
Canada's health system is evolving, and healthcare ICT is an integral part of this evolution. This technical report presents a comparative analysis of healthcare ICT initiatives, their financing, and implementation at federal, provincial, and territorial levels, and the underlying dynamics of the drivers of the initiatives at these various levels. The goal of this analytical approach is to facilitate an appreciation of the issues fundamental to current healthcare ICT spending and to anticipate those germane to future investments in health ICT. Such appreciation would be invaluable to software vendors and ICT companies interested in the Canadian health ICT market.
Healthcare professionals, Hospital CEOs and CIOs, government agencies, other healthcare stakeholders, including members of the public interested in how healthcare ICT is shaping the future of healthcare services in Canada would also find this technical report useful.
Bankix Systems Ltd is a Canadian healthcare ICT consulting company that publishes online articles, reports, market, and industry analyses, and books on healthcare ICT. Kindly visit our website at http://www.bankixsystems.com
###