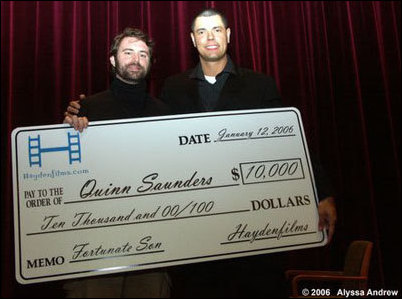 'Fortunate Son' is an incredibly moving film and we are honored to have drawn that caliber of production to our first festival. The same is true for the three other finalists for our grand prize, as well as all of the films that we received. Haydenfilms is looking forward to Season Two of our festival that will begin on August 30, 2006
Kutztown, Pa. (PRWEB) January 20, 2006
"Fortunate Son," a touching short film about a Vietnam War veteran directed by Quinn Saunders and starring Joe Spano, won the $10,000 grand prize in the First Annual Haydenfilms Online Film Festival.
The award was presented January 12, 2006 at a special ceremony at the legendary Director's Guild of America (DGA) Theater in New York City.
Competing against the winner were "I Killed Zoe Day," written and directed by Powell Weaver; "Life or Breath," written and directed by Steve Desmond; and "SmartCard," directed by James Oxford. The runners-up received prize packages from the festival's sponsors, WriteBrothers, gettyimages® and Akimbo. Other sponsors of the festival and the awards ceremony included Withoutabox, Zyr, Sposto Interactive, CMP Books, Station Avenue Productions and Chanterelle's Catering.
A native of Mt. Holly, N.J., Saunders graduated Phi Beta Kappa from Rutgers University and was accepted into the University of Southern California's Film Production Program in the spring of 2000. He was awarded an MFA in August 2003 and later worked with leading director Robert Zemeckis. "Fortunate Son" is a result of that mentoring.
"'Fortunate Son' is an incredibly moving film and we are honored to have drawn that caliber of production to our first festival. The same is true for the three other finalists for our grand prize, as well as all of the films that we received. Haydenfilms is looking forward to Season Two of our festival that will begin on August 30, 2006," said Hayden Craddolph, president and founder of Haydenfilms.
The Haydenfilms Online Film Festival is among the first fully online festivals and began in October 2004 as a way for independent filmmakers to showcase their works on the Internet. Thirty-six films were selected as finalists in Season One of the festival that ran from August 30 to October 30, 2005. The top four films are being shown on http://www.haydenfilms.com through the end of August, 2006.
Finalists for Season One of the Haydenfilms Online Film Festival submitted short films of 35 minutes or less that were reviewed by a unique, professional judging panel of eight national media professors and film industry experts. Each judge viewed and voted on the films and the top 36 were made available for online member voting. Entries included student submissions, animated works and documentaries. The Haydenfilms Online Film Festival was the first to accept all short films regardless of genre and the first to offer a $10,000 grand prize.
Haydenfilms LLC, founded in 2001, is an independent film production and distribution company based in Kutztown, Pa. Its mission is to create and foster an online network of independent and student film producers and to provide the support and resources necessary for filmmakers to succeed. The Haydenfilms website provides industry news, job and resume posting, message boards and shopping for filmmaking software and equipment.
For more details on the Second Annual Haydenfilms Online Film Festival, as well as other Haydenfilms programs and events, visit http://www.haydenfilms.com.
# # #