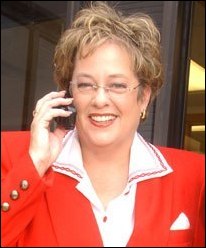 Kim Marie is one of the most respected leaders in our member-based business referral industry
San Diego, CA (PRWEB) January 18, 2006
Kim Marie Branch-Pettid has assumed the position of President of LeTip International, global business-to-business networking organization. Ken Peterson, Founder and Chairman of the Board made the announcement during the Annual Directors Meeting held in November.
Since joining LeTip in 1999, Branch has held several executive posts including Regional Director/Arizona, National Training Director, and most recently, Executive Vice President.
"Kim Marie is one of the most respected leaders in our member-based business referral industry," said Peterson from LeTip's San Diego corporate headquarters. "I am confident her energetic leadership, professionalism and ability to inspire excellence will take LeTip to the next level."
Branch-Pettid has already opened four new regions: Massachusetts, Tennessee, Texas and Florida. Other regions soon to follow are New Hampshire, Vermont, Virginia, Wisconsin, Maine, North Carolina and Vancouver, BC. "This is an exciting time for LeTip International" said Branch-Pettid. "We are entering new markets every week and signing up record numbers of small business people who join our members in passing over 60,000 tips a month."
In her new role, Branch will oversee 13 Regional Directors, 500 Chapters and over 11,000 members. "I am privileged to have this opportunity to help so many small businesses grow through LeTip's referral and relationship building programs," she stated. Top on her list of initiatives is the launch of the company's redesigned web site, which will offer interactive online content to provide both LeTip corporate and LeTip members with important strategic advantages.
Prior to joining the LeTip organization, Branch-Pettid spent twenty-five years in the banking industry culminating with a proven track record in mergers and acquisitions and new business development. Her community involvement includes volunteer leadership positions in hospital and youth organizations in California and Arizona.
About LeTip International:
LeTip International, Inc. is a structured, highly professional, business-to-business networking organization, founded in 1978 by Ken Peterson, an insurance executive from San Diego, CA. Members meet weekly to grow each other's businesses through the exchange of qualified leads. For more information visit http://www.letip.com
Contact: Mop Prime, Smith-Felver & Prime, Ltd. 215-794-8937
# # #