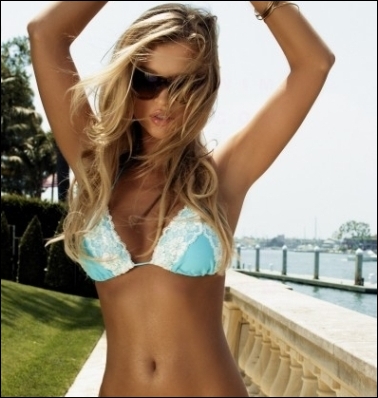 Beach Bunny Swimwear captivates your attention. Angela's suits are very original, crafted of the finest materials and many are embellished with details such as delicate Italian lace and genuine Swarovski crystals
Beverly Hills, CA (PRWEB) January 19, 2006
Bestswimwear.com, one of the leading online retailers of designer swimwear and a leading swimwear resource, has named Beach Bunny Swimwear founder, Angela Chittenden, the "Hottest New Swimwear Designer" for 2006.
"Since opening our business in 1996, we have reviewed offerings from hundreds of new swimwear designers and few meet our stringent requirements," states Claude Dauman, President of Bestswimwear.com. "Beach Bunny Swimwear captivates your attention. Angela's suits are very original, crafted of the finest materials and many are embellished with details such as delicate Italian lace and genuine Swarovski crystals".
Angela Chittenden founded Beach Bunny Swimwear after years of modeling swimsuits for Hawaiian Tropic and Bikini.com and appearing in publications such as "Maxim" and "Muscle and Fitness." Angela felt that when it came to swimsuits, the options were limited. Borrowing concepts from the finest lingerie, Angela penned fun, flirty designs fitting for an ultra-feminine swimwear collection.
From her experience as a swimsuit model, Angela understands the difficulty in finding that perfect-fit suit, so all of her swimsuits are designed to flatter and tops and bottoms are sized separately. Beach Bunny Swimwear is available http://www.bestswimwear.com and at many fine retailers across the U.S.
About:
Bestswimwear.com is a leading online retailer of designer swimwear. Established in 1996, Bestswimwear.com offers more than 28 premium swimwear lines, many of which are featured in top fashion publications. Bestswimwear.com serves more than 5 million visitors annually.
Contact:
Claude Dauman
Bestswimwear.com
9663 Santa Monica Blvd., Suite 186
Beverly Hills, CA 90210
Phone: 213.388.3807
# # #