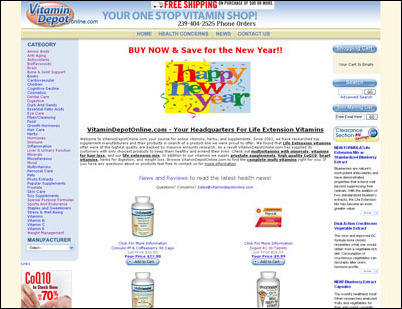 Health means everything to me
Naples, FL (PRWEB) January 23, 2006 –
You can give your body the powerful boost that it needs to fight disease, reverse the effects of aging, and soothe common ailments by visiting VitaminDepotOnline.com. The site is easy to use and is neatly categorized by health condition or product manufacturer. In addition, you can save 70 percent or more off of retail prices by shopping online.
VitaminDepotOnline.com brings you a complete selection of advanced multivitamins and minerals, including vitamins for energy, vitamins for hair loss, heart vitamins, Life Extension vitamins, and ginseng vitamins. You'll also find a great selection of anti aging skin products and anti aging supplement choices such as high quality CoQ10. Look and feel better than ever with the best multivitamins and other superior supplements and products.
"Health means everything to me," said Daniel Brister, co-owner of VitaminDepotOnline.com and a survivor of cancer. "Vitamins and health have been number one on my list ever since battling the disease. I want every person to have the option of staying healthy for an entire lifetime."
One of the best features of VitaminDepotOnline.com is that the company has a direct link with manufacturers of multivitamins and minerals and other products, meaning that you get the freshest, newest items possible. In addition, it's easy to shop because everything is neatly categorized by the health conditions that they are designed to address. VitaminDepotOnline.com carries such well known brands as Life Extension vitamins, Twinlab, Carlson Labs, Country Life, and more.
You can trust VitaminDepotOnline.com to bring you high-quality, complete multi vitamins, herbs for digestion and weight loss, sports supplements, and other items to help you live a long, active life. Whether you want to combat the effects of aging, improve your performance, or simply feel more energetic, VitaminDepotOnline.com carries products designed with your needs in mind.
The grand opening of VitaminDepotOnline.com means that now you can get the high-quality health products you demand, with more selection and more savings every day.
Visit VitaminDepotOnline.com today and see for yourself.
About VitaminDepotOnline.com:
VitaminDepotOnline.com is a Web-based company offering manufacturer-direct multivitamins and minerals, sports supplements, and other items for active, healthy lifestyles. Co-owners Roy Brown, Daniel Brister, and Brian Evans take pride in their fantastic service and support, and the company backs all sales with a 100% satisfaction guarantee.
Visit our website at http://www.VitaminDepotOnline.com
###