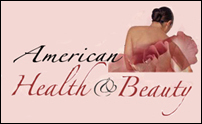 About 35% of my business is a result of the marketing efforts of American Health and Beauty.com
Houston, TX (PRWEB) January 20, 2006
Seattle physician Dr. Virginia Stevens schedules on average 15 Thermage® sessions a week, generating monthly gross revenues of about $150,000. "About 35% of my business is a result of the marketing efforts of American Health and Beauty.com," says Dr. Stevens. For nearly two years, our internet marketing program has been consistently providing high quality new patient leads to Dr. Stevens from the entire Pacific Northwest region on a daily basis.
Dr. Thomas Shelton Powers (one of the top Thermage® providers in California) at DIVA Medical in Orange County says that American Health and Beauty™ is "the best value I've ever had for my marketing dollar hands down!"
Dr. Gregory Nikolaidis, the top Thermage® physician in Texas, uses American Health and Beauty™ to attract new patients not only from the Austin metro but the surrounding cities where standard print and radio advertising may not reach prospective patients.
Dr. Karl Swanson of the Ultimate Image Cosmetic Medical Centre in Tampa, Florida relies heavily on the advertising efforts of American Health and Beauty™ to connect with new cosmetic patients and speaks with them personally about their concerns, which results in a consultation more often than not.
Any aesthetic practice with a bit of marketing savvy can produce tremendous revenues using the services of American Health and Beauty™.
What does American Health and Beauty™ do?
We list cosmetic and aesthetic practices on http://www.americanhealthandbeauty.com. You can submit your Before and After photos and contribute any content you would like to post.
Preferred practices can contribute an article for one of our local websites like http://www.californiahealthandbeauty.com to provide more visibility
Prospective patients write directly to you and are required to provide their name, phone, email, and zip code
We protects you from fraud by ensuring that the contact is in your area or willing to travel and has supplied you with accurate contact information
Advertising cost is based purely on volume, not a monthly fee
For more information about marketing your Thermage® practice or any cosmetic medical practice through American Health and Beauty™, visit http://www.americanhealthandbeauty.com
Download the informational package and enrollment form here. http://www.americanhealthandbeauty.com/americanhealthandbeauty.pdf
Keith Veseleny or
Eva Sheie
American Health and Beauty, LLC
PO Box 430333
Houston, TX 77243
713-896-7457
# # #